The Sutherland Brothers
And Quiver
---
The Sutherland brothers Iain, (Left) and Gavin (Right) from one of their last albums.
The Sutherland Brothers Gave Rod Stewart One of His Greatest Hits
The two brothers, on their own and with Quiver are one of my all-time favorite bands. Even when I had a record shop full of albums, often it was a SB & Q record that I would grab. The two brothers Iain and Gavin hailed from Scotland and came from a musical family.
Learning to sing and play guitar at an early age, they were influenced by American jazz, as well as the Scottish folk scene. Moving down to Stoke-on-Trent, they also absorbed the pop sound of Radio Luxembourg and the local music scene.
The very astute Muff Winwood, (ex-Spencer Davis group) heard a demo of the brothers and gave them a a recording contract with Island Records. At this stage, the band consisted of Iain and Gavin on guitars and vocals, bassist Kim Ludman and Neil Hopwood in the drummer's chair.
---
The Sutherland Brothers Become a Band
As a duo, the Sutherlands go through "The Pie"
This group produced the first album, "The Sutherland Brothers Band" containing the classic track "The Pie". The album came out in early 1972, The Pie being a minor hit, (no 38 here in Australia. Kim and Neil moved on after the album, and the following session was done using such musicians as John Bundrick, Steve Winwood, on piano and keyboard, and Dave Mattacks on drums.
"Lifeboat" came out in 1973, and confirmed Iain and Gavin as strong songwriters with classic tight harmonies. However, the problem of reproducing their album sound live on stage without a backing band band was now a problem.
---
Then Sutherland Brothers and Quiver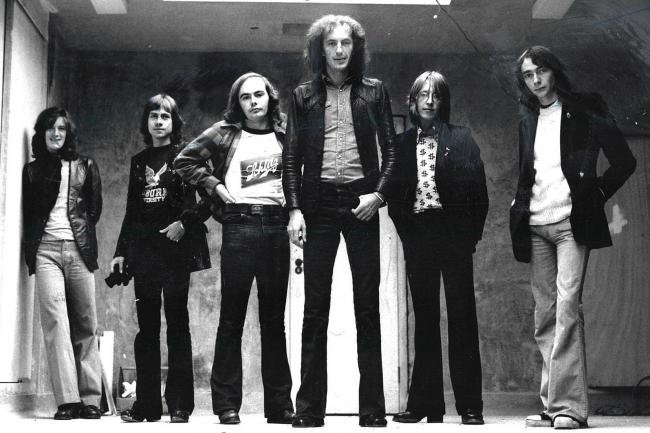 The Sutherlands and Quiver unite! The original 6 piece line-up. (L to R) Tim Renwick, guitar, Peter Wood, keyboard, Bruce Thomas on bass, Willie Wilson the drummer, Iain Sutherland and Gavin Sutherland.
Quiver were originally formed by guitarist Tim Renwick and bassist John 'Honk' Lodge (both formerly with Junior's Eyes and David Bowie), but soon comprised Tim Renwick, guitarist and singer Cal Batchelor, bassist Bruce Thomas and drummer Willie Wilson. Most of the members of Quiver are also featured on Al Stewart's albums Orange (1972) and Past, Present and Future (1973).

However, Quiver lacked good songwriters and vocals, which was needed to develop their obvious musical skills

The Sutherland Brothers and Quiver's proper full-length debut was 1973's "Dream Kid" album. A great album featuring the title track, "Bluesy World" and "Bad Looser". Bruce Thomas, who had been repeatedly clashing with Iain Sutherland, was asked to leave the group during a tour of Europe in March 1974. With only a week to go before the band was due to record their next album, Tex Comer (Bass player with the band Ace) filled in on bass for live gigs and a few album cuts, but Gavin Sutherland quickly moved over from guitar to bass, and the band continued as a five-piece. This was what the song "How Long," a hit for the band Ace was all about.
The classic "Beat of the Street" followed one of my favorite albums. Featuring "World In Action", "Devil Are You Satisfied" it is probably the Suth's best albums.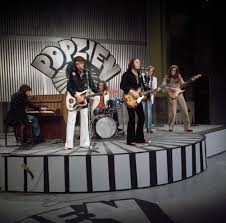 Touring on German Television. Sutherlands and Quiver quickly hit their stride. This is their original 6-piece line-up
A new manager, Nick Blackburn took them  to CBS Records, and the result, "Reach For The Sky" came out in 1975. This album featured the classic "Arms of Mary" their biggest hit to date, ("You Got Me Anyway "reached no.20 on the cashbox chart in1972). Iain Sutherland recalls writing this in the farmhouse in in Stoke-On-Trent. The song remains a classic to this day. Keyboard player Peter Wood had departed the band by now to join Al Stewarts band. Peter co-wrote Al's hit song "Year of the Cat".  He died in December 1993
Rod Stewart recorded "Sailing" in 1975, and made No. 1 in the U.K. A year later it was used over the titles of a documentary on the aircraft carrier Ark Royal, getting back in the charts and staying there for 11 weeks.
After "reach For The Sky" things fell apart. "Arms of Mary" attracted an audience that was add odds with most of the bands music. The two albums that followed were excellent, but the released singles failed to dent the charts.
Tim Renwick had a successful career with Pink Floyd, and Willie Wilson worked with Dave Gilmour.
---
Sutherland Brothers On Vinyl
---
...the album that started it all. Featuring the original four piece line-up this album has "The Pie", ""Where In The World" and "Long Long Day", it was released in early 1972.
---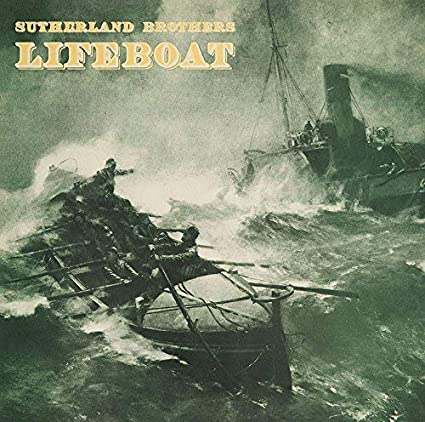 Lifeboat..the second album recorded at Island Studios and released in 1972. Featuring studio musicians the original track "Sorrow" was replaced by "Sailing". Other tracks are "Lady Like You" and the great "Real Love" featuring John Bundrick and Steve Winwood on Keyboards.
---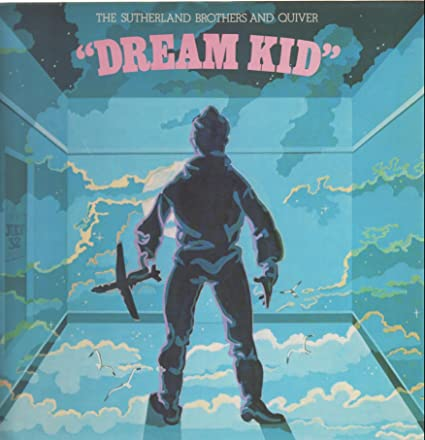 ...the first album with Quiver, and what a great album. Featuring the full 6-piece band the album came out in 1973. 10 tracks, highlights of which are "Champion the Underdog", "You and Me", my favorite "Bluesy World", and "Seagull/Lonely Love". A great album. As a reviewer said at the time: "enough good things can't be said about this album: bouncy guitars and spirited rock which producer Muff Winwood squeezes into the grooves."
---
Enjoy this site? Share with friends!