The UK Skiffle Scene......




influencing a generation of future rock stars!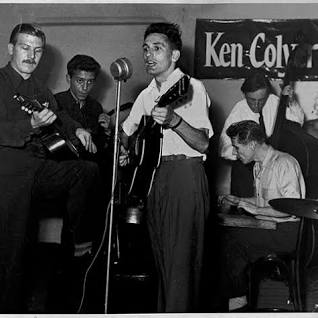 Skiffle Gets Going in the UK
Skiffle hails from America, folk music with some blues, country, bluegrass and jazz.
Performed with a combination of homemade and purchased proper instruments, like banjo, guitar, washboard and tea chest. This gave anyone interested the chance to play music without a large financial outlay.
Originating in the USA in the early 20th Century, it became popular in the UK around 1950.
Artists, particularly Lonnie Donnegan, Ken Colyer and Chas McDivett, spread the word and became very popular.
Skiffle was a big part of many successful musicians, and was a contributed to the revival of folk music, the rise of Blues music and to the eventual British Invasion of the UK.
Lonnie Donegan was the best known of the skiffle scene. After the war, music gradually moved away from the swing music towards trad jazz.  Leading this move were the Bill Bailey Skiffle Group and Ken Colyers Jazzmen. Colyer was self-taught, played guitar and clarinet. In his band was Lonnie Donnegan, and it was this was the band that got skiffle going.
The band played a variety of American folk and blues songs mainly from Leadbelly and the American Jug Bands.
---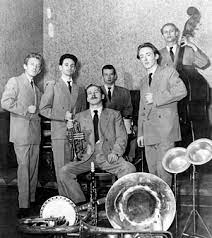 The Chris barber Line Up, 1953
The Chris Barber Jazz Band, Ken Colyer (trumpet) Chris Barber (trombone) Monty Sunshine (clarinet) Lonnie Donegan (banjo) Jim Bray (bass) Ron Bowden (drums). This line up lasted about a year before  the five originals split from Colyer.
---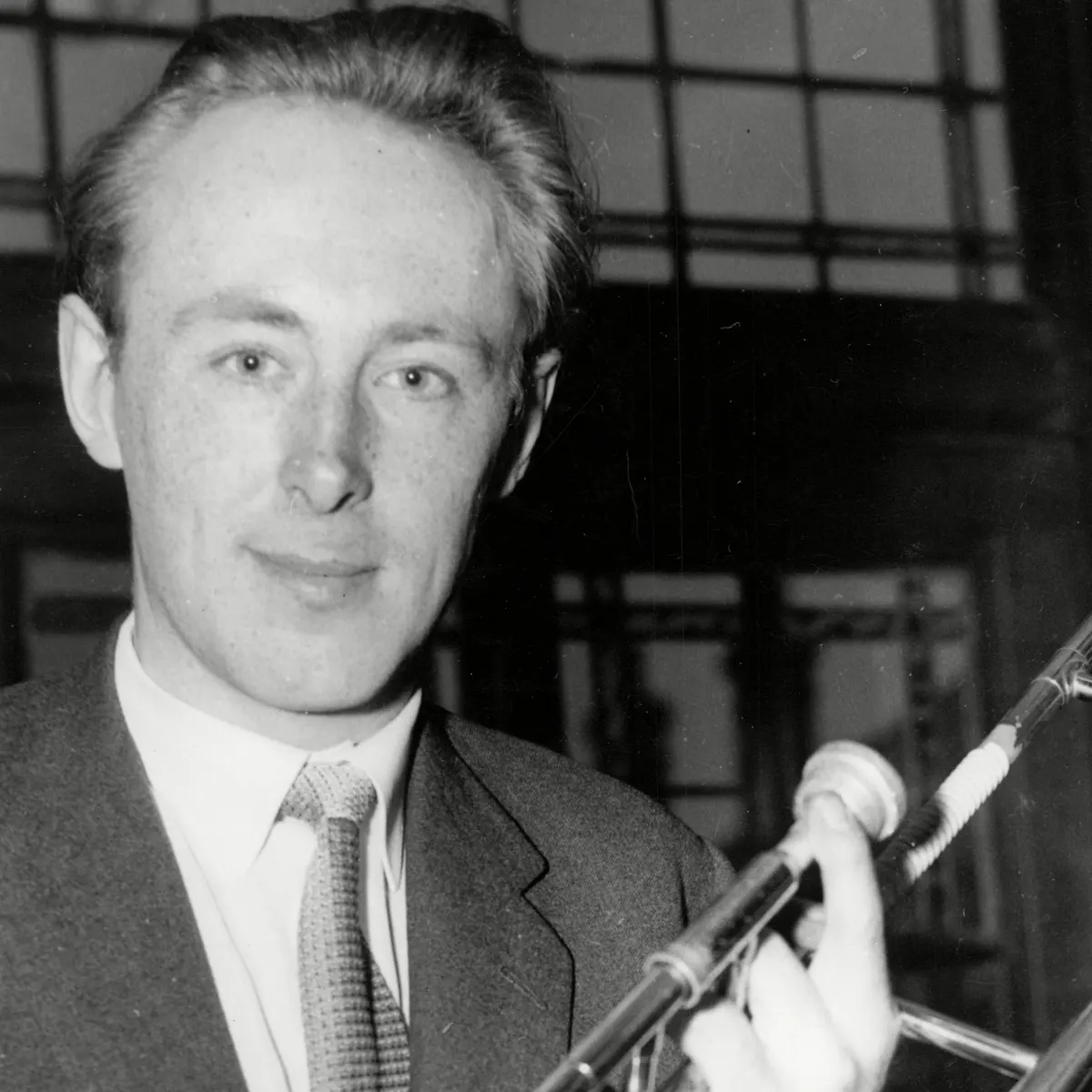 Chris Barber, who was a great inspiration and supporter of Ollie Patterson and Lonnie Donegan, and . He provided an audience for Donegan and, later, Alexis Korner. He sponsored African-American blues musicians to visit Britain, making Barber a significant figure in launching the British rhythm and blues and "beat boom" of the 1960s.

---
In 1954, Colyer formed a new band, which became the Chris Barber jazz Band, which included Lonie Donegan.

Under the name Lonnie Donegan Skiffle Group, the band recorded two track s with Decca in late 1955, transforming the fortunes of skiffle.
The fast-swinging version of Lead Bellys "Rock Island Line" with "John Henry" on the B side spent 8 months in the Top 20 UK charts, peaking at No. 6 (No. 8 USA), and was the first debut record to go gold in Britain selling over a million copies throughout the world.
The Acoustic Music organization commented on Donegan's "Rock Island Line" thus: "It flew up the English charts. Donegan had synthesized American Southern Blues with simple acoustic instruments: acoustic guitar, washtub bass and washboard rhythm. The new style was called 'Skiffle' .... and referred to music from people with little money for instruments. The new style captivated an entire generation of post-war youth in England."
Donegan split from Barber and went on to make a series of popular records as "Lonnie Donegan's Skiffle Group", with successes including "Cumberland Gap" (1957), "Does Your Chewing Gum Lose Its Flavor" (1958) and "My Old Man's a Dustman" (1960).
The huge success of the "Rock Island Line" record and it was no longer a need for expensive instruments or skilled musicianship that kicked off the British skiffle era. Lots of new bands succeeded with chart success in the skiffle craze, including the Chas McDevitt Skiffle Group ("Freight Train) Johnny Duncan and the Bluegrass Boys, but the importance of skiffle was as an amateur movement, particularly popular among working class guys, who could now cheaply get hold of their own instruments and get into a band. The craze probably reached its height with the commencing of the BBC TV programme Six-Five Special from 1957, first British youth music programme, using a skiffle song as its title music and featuring skiffle music.
By now the British rock and roll scene was starting to get going with local stars Tommy Steele, Marty Wilde and Cliff Richard and the Shadows (all originally involved in skiffle)

So skiffle directly influenced the future rock stars of the UK. As American black music came to the ears of musicians in Liverpool, Newcastle and other ports via the US sailors.
Sales of guitars exlpoded and other musicians were able to perform on improvised bass and percussion in venues such as church halls and cafes and in the flourishing coffee bars of Soho, London, like the 2i's Coffee Bar, the Cat's Whisker and nightspots like Coconut Grove and Churchill's, without having to aspire to musical perfection or virtuosity. Many British musicians began their careers playing skiffle in this period, and some became leading figures in their respective fields. including Van Morrison and British blues pioneer Alexis Korner, as well as Ronnie Wood, Alex Harvey, Mick Jagger, Roger Daltrey, Jimmy Page, Ritchie Blackmore, Robin Trower and David Gilmour. popular Beat-music successes Graham Nash and Allan Clarke. Of course the most notably, the Beatles developed from John Lennon's 1957 skiffle group the Quarrymen; Paul McCartney was added after a few months and George Harrison joined in 1958.
Lonnie Donegan Vinyl
This album also included guest musicians Rory Gallagher, Elton John, Brian May, Ronnie Wood and Ringo Starr amongst others.
Side 1
1                         Rock Island Line
2                         Have A Drink On Me
3                         Ham 'N Eggs
A4                         I Wanna Go Home
5                         Diggin' My Potatoes
Side 2
1                         Nobody's Child
2                         Puttin' On The Style
B3                         Frankie & Johnny
4                         Drop Down Baby
5                         Lost John
Chris Barber Vinyl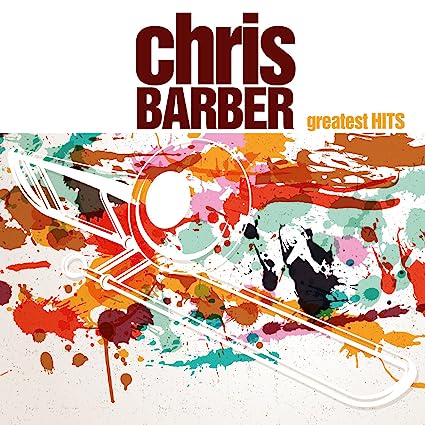 Chris Barbers Greatest Hits
This came out in 2015, and gives a very good coverage of Chris Barbers  career.
1 Ice Cream
2 When The Saints Go Marching In
3 Tuxedo Rag
A Darling Nelly Gray
5 I'm Gonna Wash That Man Right Out Of My Hair
6 Creole Son
7Down By The Riverside
Side 2
1 Tiger Rag
2 Bourbon Street Parade
3Jil House Blues
4Bye And Bye
5High Society
6Stevedore Stomp
7Diga Diga Do
Enjoy this site? Share with friends!