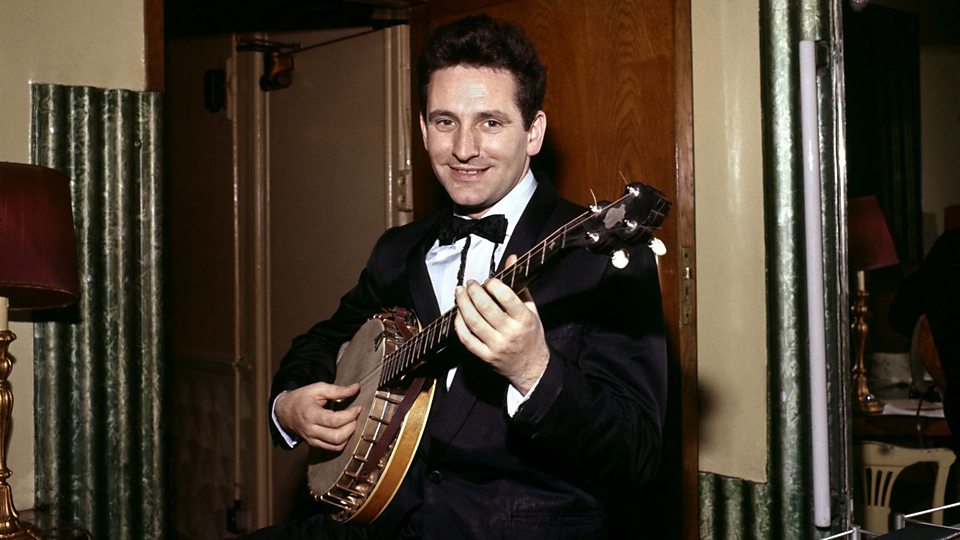 Lonnie Donegan
Lonnie Donegan influenced a generation of young British musicians!
Anthony James Donegan MBE (Born. 29 April 1931 Died, 3 November 2002), known as Lonnie Donegan, the original British skiffle singer, songwriter, and musician, referred to as the "King of Skiffle".  Lonnie influenced most 1960s British pop and rock musicians.] Born in Scotland and raised in England, he was Britain's most successful and influential recording artist before the Beatles.
---
Lonnie Donegan starts skiffle-mania!
Donegan had 31 UK top 30 hit singles, 24 being successive and three at number one. He was the first British male singer with two US top 10 hits Donegan received an Ivor Novello lifetime achievement award in 1995 and, in 2000, he was made an MBE.
With a washboard, tea-chest bass and a cheap Spanish guitar, Donegan played folk and blues songs by artists such as Lead Belly and Woody Guthrie. This proved popular and in July 1954 he recorded a fast version of Lead Belly's "Rock Island Line" featuring a washboard, with  " John Henry" on the other side. It was a hit in 1956 (which also later inspired the creation of a full album, An Englishman Sings American Folk Songs, released in America in the early 1960s),

---
This recording has proved greatly influential on musicians who heard it in their younger days and for whom it seems to have been a catalyst in their musical motivation and careers. Suddenly, it was easy to get into music, all one needed was a cheap guitar, knock up a T chest bass, grab mum's washboard and away you went!   Music was accessible to all!
 Musicians influenced by Lonnie Donegan include Paul McCartney, "He was the first person we had heard of from Britain to get to the coveted No. 1 in the charts, and we studied his records avidly. We all bought guitars to be in a skiffle group. He was the man."                             Brian May "He really was at the very cornerstone of English blues and rock.", and Roger Daltry "I wanted to be Elvis Presley when I grew up, I knew that. But the man who really made me feel like I could actually go out and do it was a chap by the name of Lonnie Donegan."
And so, this lead to the British Blues Invasion, bringing the blues back to the U.S.
---
Lonnie on Vinyl
One has to look hard for Lonnie on vinyl. This is one of the few, with  Ten tracks including the title track, "Rock Island Line" "Have a Drink on Me", (my fave)  and "Frankie and Johnnie" A good example of his music.
---
Enjoy this site? Share with friends!