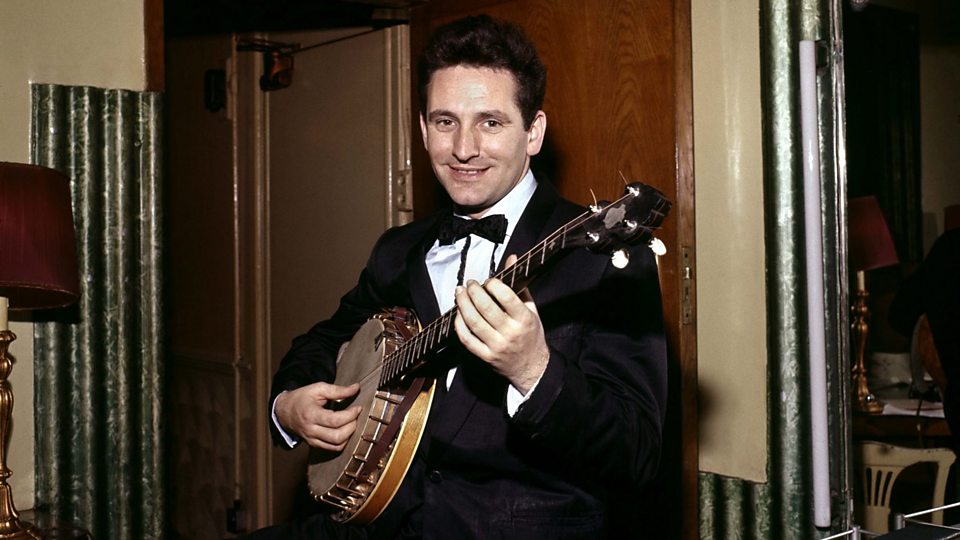 Lonnie Donegan
Lonnie Donegan influenced a generation of young British musicians!
Anthony James Donegan MBE (Born. 29 April 1931 Died, 3 November 2002), known as Lonnie Donegan, the original British skiffle singer, songwriter, and musician, referred to as the "King of Skiffle".  Lonnie influenced most 1960s British pop and rock musicians. Born in Scotland and raised in England, he was Britain's most successful and influential recording artist before the Beatles.
---
Lonnie Donegan starts skiffle-mania!
Donegan had 31 UK top 30 hit singles, 24 being successive and three at number one. He was the first British male singer with two US top 10 hits. Donegan received an Ivor Novello lifetime achievement award in 1995 and, in 2000, he was made an MBE.
Donegan first played in a major band after Chris Barber heard that he was a good banjo player and, on a train, asked him to audition. Donegan never having actually played a banjo, went out and  bought one for the audition and succeeded in getting the gig. His stint with Barber's trad jazz band was interrupted when he was called up for National Service in 1949, but while in the army at Southampton, he got the job of  the drummer in Ken Grinyer's Wolverines Jazz Band at a local pub. A posting to Vienna brought him into contact with American troops, and his first exposure to US records and the American Forces Network radio station.
In 1952, he formed the Tony Donegan Jazzband, which played around London. On 28 June 1952 at the Royal Festival Hall they opened for the blues musician Lonnie Johnson. Donegan adopted his first name as a tribute.
Lonnie then worked with Ken Colyers jazzmen. While in Ken Colyer's Jazzmen with Chris Barber, Donegan sang and played guitar and banjo in their Dixieland set. During the intervals, Lonnie performed skiffle music. With a washboard, tea-chest bass and a cheap Spanish guitar, Donegan played folk and blues songs by artists such as Lead Belly and Woody Guthrie, emulating the American jug bands. These interval breaks were called "skiffle" breaks, a name suggested by Ken Colyer's  brother. In 1954 Colyer left and the band became Chris Barber's Jazz Band.This band proved popular and in July 1954 he recorded a pacey version of Lead Belly's "Rock Island Line" featuring a washboard, with  " John Henry" on the flip side.
It was a hit in 1956 (which also later inspired the creation of a full album, "An Englishman Sings American Folk Songs", released in America in the early 1960s),
---
This recording has proved greatly influential on musicians who heard it in their younger days and for whom it seems to have been a catalyst in their musical motivation and careers. Suddenly, it was easy to get into music, all one needed was a cheap guitar, knock up a T chest bass, grab mum's washboard and away you went!   Music was accessible to all!
 Musicians influenced by Lonnie Donegan include Paul McCartney, "He was the first person we had heard of from Britain to get to the coveted No. 1 in the charts, and we studied his records avidly. We all bought guitars to be in a skiffle group. He was the man."                             Brian May "He really was at the very cornerstone of English blues and rock.", and Roger Daltry "I wanted to be Elvis Presley when I grew up, I knew that. But the man who really made me feel like I could actually go out and do it was a chap by the name of Lonnie Donegan."
Donegan went on to successes such as "Cumberland Gap" and "Does Your Chewing Gum Lose Its Flavour (On the Bedpost Overnight?)". This was Donegan's biggest hit in the US.] He then switched to music hall style with "My Old Man's a Dustman" which was unsuccessful in America , in 1960, but it reached number one in the UK. Donegan's group had a varying line-up, but was generally Denny Wright or Les Bennetts playing lead guitar and singing harmony, Micky Ashman or Pete Huggett—later Steve Jones—on upright bass, Nick Nichols—later Pete Appleby, Mark Goodwin, and Ken Rodway on the drum stool, and Donegan playing acoustic guitar or banjo and singing the lead
His last hit single on the UK chart was his cover version of "Pick a Bale of Cotton." Ironically, or perhaps appropriately, his fall from the chart coincided with the rise of The Beatles and the other beat music performers whom he inspired.
And so, this lead to the British Blues Invasion, bringing the blues back to the U.S.
---
Lonnie on Vinyl
One has to look hard for Lonnie on vinyl. This is one of the few, with  Ten tracks including  "Rock Island Line" "Have a Drink on Me", (my fave)  and "Frankie and Johnnie" A good example of his music.
This album also included guest musicians Rory Gallagher, Elton John, Brian May, Ronnie Wood and Ringo Starr amongst others.
Side 1
1                         Rock Island Line
2                         Have A Drink On Me
3                         Ham 'N Eggs
A4                         I Wanna Go Home
5                         Diggin' My Potatoes
Side 2
1                         Nobody's Child
2                         Puttin' On The Style
B3                         Frankie & Johnny
4                         Drop Down Baby
5                         Lost John

---
Enjoy this site? Share with friends!