Cliff Richard 
---
Cliff Richard and The Shadows defined the sound of U.K. in the Pre Beatle 60's
Cliff and his Shadows, with jet Harris, left, Tony Meehan, (hidden behind Cliff) and Bruce Welsh. On the set of Expresso Bongo.
Cliff Richard's real name is Harry Webb. He changed his name to Cliff Richard, (Cliff suggesting "rock face….like ROCK!) and Richard in honor of Little Richard. He became the lead singer in the Drifters, who soon after several personnel changes, became the Shadows, to avoid confusion with the American group of the same name.
---
How Cliff Got Together with
his Shadows
The original line up was Ian Samwell on guitar, Terry Smart on drums and Norman Mitham on guitar. None of the other three played with the later Shadows, although Samwell wrote songs for Richard's later career. Cliff's first hit was "Move It" written by Ian Samuel, apparently while on the bus to a Cliff rehearsal.
---
Cliff and the boys get into it!
Cloned as an Elvis style rocker, Cliff scored his first Number 1 in the U.K. with "Living Doll", a Lionel Bart song in 1959. His first album "Cliff" was recorded in the studio with a live audience, and his first film was "Espresso Bongo" in 1960. Cliff has had 93 chart hits in the UK, and 42 LP hits.
Among his hits were "Travelling Light", 1959, "Please Don't Tease", 1960, "The Young Ones" and "Bachelor Boy" 1961, and "Summer Holiday in 1962. "Congratulations" in1968 came second in the Eurovision Song Contest when it still meant something.
---
Cliff Richard afterBeatlemania
| | |
| --- | --- |
| With the new look Beatle haircut, and "I'm Nearly famous" album charting. | Cliff survived Beatlemania, adopted a Beatle style haircut, but ignored current music trends. Despite his still very clean-cut image, he scored with the rocky "Devil Woman" (co-written by Australian Terry Britten) |
 which reached no. 4 in the UK and No. 6 in the USA in 1976. Two great albums "I'm Nearly Famous" and "Wired for Sound" in '79 and 81 followed, and "We Don't Talk Any More" got to No. 1 in the UK and 6 on Cashbox in the USA.

Cliff Richard's 1958 hit "Move It" is widely regarded as the first authentic British rock and roll record, and "laid the foundations" for the Beatles and Merseybeat music. John Lennon said of Richard: "before Cliff and the Shadows, there had been nothing worth listening to in British music". In contrast to contemporaries such as Marty Wilde, Billy Fury and Adam Faith, his successful performing and recording career in the UK has extended over six decades.
---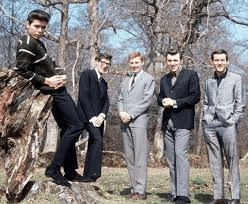 John Rostill (left) and Brian Bennett (right) now form the rhythm section,1964
Find out about The Shadows HERE
---
Cliff Richard on Vinyl
Released in October 1960,went to no. 2 on the English charts. No UK singles were supposed to come off the album, but eventually "Gee Whiz It's You" backed with "I Cannot Find True Love" was released. It charted at No. 4 in the singles chart. As well as those two, there are 16 other tracks
Enjoy this site? Share with friends!