I first heard of John Mayall while listening to the ABC one Saturday morning. They played a BBC radio show featuring music live from their studio, and he was on that morning. Eric Clapton had just joined the band, and they sounded GREAT! I quickly got hold of their "Beano" album and played it to death.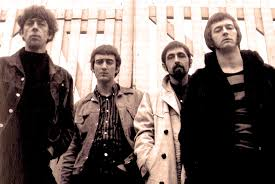 The classic "Beano" lineup. Mayall, John McVie, Hughie Flint and Eric Clapton.
This, is the line up from that album. Clapton of course, departed to work with Jack Bruce and Ginger Baker to form Cream. Hughie Flint eventually formed McGuinness Flint, (with Manfred Mann's Tom McGuinness), and John McVie joined Fleetwood Mac.
Peter Green, left, with the Bluesbreakers Aynsley Dunbar, John McVie hanging in there and John on the keyboard and harmonica.
The "Hard Road" album line up.
The near impossible job of replacing Eric Clapton fell to Peter Green. Peter had stood in with the Bluesbreakers when Eric went for a trip around Europe, so Mayall new what he was capable of. Peter Green is on the left, Aynsley Dunbar behind the skins, John McVie still thinking about Fleetwood Mac on the bass and John behind the keys adding a bit of harmonica.
I was lucky enough to see The Bluesbreakers here in Adelaide in 2008, and he was of course brilliant.