T

he Troggs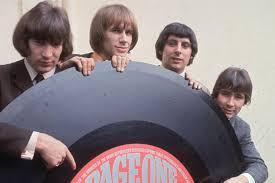 The Troggs, freshly signed to Page One records and ready to go!
The Troggs...all of a sudden, The Troggs were IT!
The band that put Andover on the map! Formed by Reg Presley (born reg Ball, renamed by manager Larry Page) lead vocals, Chris Britton, guitar, Ronnie Bond, drums and Pete Staples on bass.
They hit the big time in 1966 with "Wild Thing", then had a string of classic hits to follow."With a Girl Like You" was written by Presley and made no. 1 in the U.K. and no. 30 in the U.S.
"I can't Control Myself" got to no. 2 in the U.K. despite being banned on radio there.The words "You're slacks are low and your hips are showing" proving to suggestive for the staid BBC.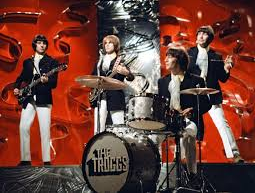 On yet another T.V. appearance, Pete Staples on the bass, Chris Britton, guitar, drummer Ronnie Bond, and Reg Presley belting out the vocals.
The Troggs Hits....and misses.
Others followed, "Hi Hi Hazel," "Love Is All Around Us".

Their first album "From Nowhere, the Troggs" was a great album, highlighting the different writing styles of Presley, and a tight, great sounding band.

The band's popularity completely waned the following year. Former Plastic Penny bassist Tony Murray replaced Pete Staples in 1969. Richard Moore filled in for Britton on their 1972–1973 tour. In 1974, after a spell on Pye Records, to re-create their 1960s successes, the Troggs re-united with Larry Page, now running Penny Farthing Records. The resulting cover version of the Beach Boys hit "Good Vibrations" failed to chart. A reggae version of "Wild Thing" also failed. Richard Moore and Colin Fletcher substituted for Britton, who temporarily quit music to manage a night club in Spain, for the recording of The Troggs Tapes album released in 1976.[8] The band found a sympathetic ear at French label New Rose in the 1980s, releasing the Black Bottom LP (1982) and AU (1990).
The band's original drummer, Ronnie Bond, died on 13 November 1992. In January 2012, Reg Presley retired after being diagnosed with lung cancer. The band carried on with new lead singer Chris Allen. Presley died on 4 February 2013.[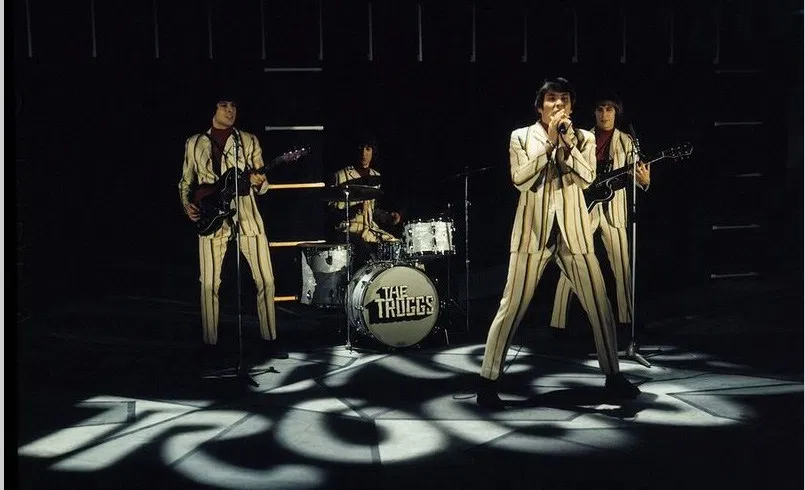 Early days in their matching striped outfits.
The Troggs Influence and Legacy
The Troggs are widely seen as a highly influential band whose sound was an inspiration for garage  and punk rock.[Influential American critic Lester Bangs "called the band the progenitors of punk", according to NPR For example, the Troggs influenced artists such as Iggy Pop] and the early version of British pop-punk pioneers Buzzcocks featured "I Can't Control Myself" in their live repertoire. The Ramones are also among the punk bands who cited the Troggs as an influence. "I Can't Control Myself" is perhaps the most enduring favorite of critics; it continues to be championed for its originality and lasting influence by radio hosts such as "Little" Steven Van Zandt.
Contains "Wild Thing", 'With A Girl Like You", "Gonna Make You" "I Cant Control Myself" and "Love is All Around"

A great album, with 14 tracks in all.
Enjoy this site? Share with friends!