The Small Faces
A young, vibrant band from London's East End, the Small faces were, like the Who, a cult among London's mods. One of the best bands of '65-'68, their drive and energy was quite amazing.
Comprising Stave Marriott on guitar and vocals, Ronnie Lane, bass and vocals, Kenny Jones handling the drums and Ian McLagen on keyboard, and Don Arden's smart management, they successfully presented themselves as unpretentious boisterous cockneys, becoming one of the country's biggest groups.
Marriott had been a child actor, playing the Artful Dodger in "Oliver" before forming his own band Steve Marriott and the Frantics, before joining up with Lane, Jones, and eventually McGlagen.
---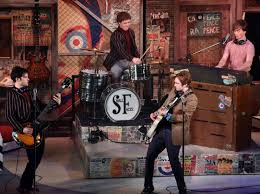 Throwing themselves into this TV performance, The Small Faces with Ronnie Lane, Kenny Jones, Steve Marriott and Ian McLagen.
---
The Small Faces Hit The Charts
They first hit the charts with "Watcha Gonna Do About It" reaching No.14 on the UK carts in August 1965. he lyrics were co-written by Drifters band member Ian Samwell (who wrote one of the first British rock'n'roll records, "Move It") and Brian Potter. But the  group failed to capitalise on the success of their first single with the follow-up which was written by Marriott/Lane, the hard-edged mod number "I've Got Mine"
The big break came with the next single," Sha La La La La Lee", written by experienced writer Mort Schuman. Marriott and Lane soon gelled as a song writing team, and penned the next single, "Hey Girl" which reached No.10 on the charts. Then, a classic No. 1 hit, "All or Nothing" making the coveted slot in August '66. "My Mind's Eye" flowed peaking at No.4. Then, tired of being just pretty faces putting out pop songs, they changed tack.
"Itchycoo Park", with innovative use of electronic phasing, (No. 3 August '67) and the classic "Tin Soldier" at No. 9."Lazy Sunday" was an excellent mix of good hard rock and music hall.
The Small Faces Legacy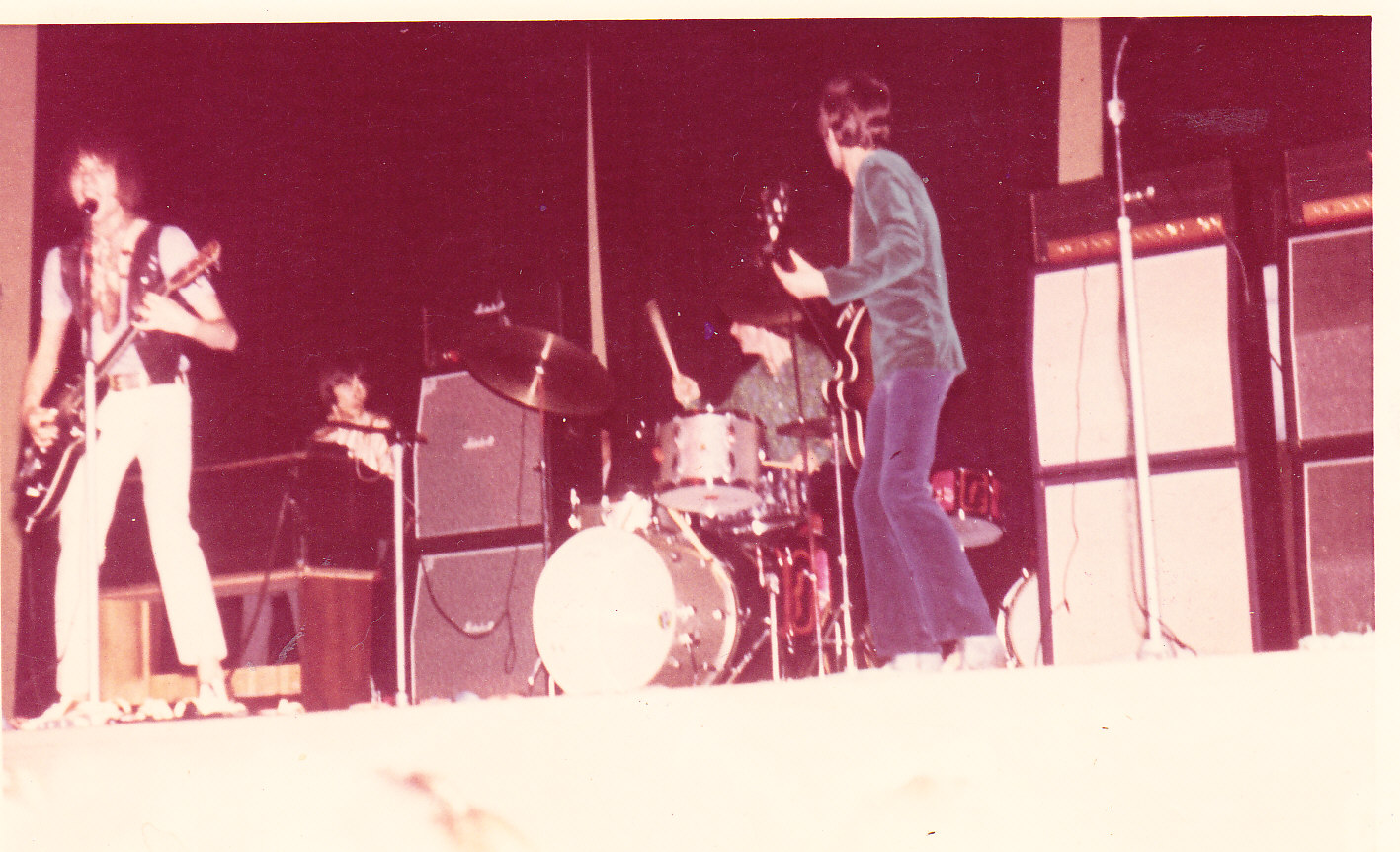 The Small Faces performing at Adelaide's Centennial Hall, January 27, 1968. L to R Steve Marriott, Ian McLagen, Kenny Jones and Ronnie "Plonk" Lane.
Their music is still very listenable today, for its quality and consistency, with Marriott's unique vocals rating as one of the bet singers from that era.
The final single, a great song was "Afterglow of Your Love" released in 1969 after the band split, reaching 36 on the singles chart. Their album "Odgens Nut Gone Flake" on 24 May 1968. It is widely regarded as a classic album, and featured an innovative round cover, the first of its kind, designed to resemble an antique tobacco tin. It stayed at No. 1 in the UK Albums Chart for six weeks but reached only No. 159 in the US.
Steve Marriott left the band at the end of 1968. Citing frustration at their failure to break out of their pop image and their inability to reproduce the more sophisticated material properly on stage, Marriott was already looking ahead to a new band, Humble Pie, with Peter Frampton.
The remaining members, Lane, McLagen, and Lynch joined with Ronnie Wood and then Rod Stewart, both from the Jeff Beck Group, to become the Faces, and achieve international stardom.
Ronnie "Plonk" Lane formed Slim Chance after leaving the Faces and died at his home in Tobago Trinidad in June 1997 after battling MS for 20 years.
Kenny Jones toured with The Who after the death of Keith Moon in 1978, until the late 80's.
On Saturday, 20 April 1991, Steve Marriott died in his sleep when a fire, caused by a cigarette, swept through his home in Essex, England His death came just a few days after he had begun work on a new album in America with his former Humble Pie bandmate, Peter Frampton.
The Small Faces Vinyl
Ogdens' Nut Gone Flake
is the Small Faces third studio album, and only concept album . Released on 24 May 1968, the LP peaked at number one on the UK Album Charts on 29 June, where it remained for a total of six weeks. It ultimately became the group's final studio album, (and the last album to contain solely new material until the release of reunion album Playmates in 1977). The album title and distinctive packaging design was a parody of Ogden's Nut-brown Flake, a brand of tinned loose tobacco that was produced in Liverpool from 1899 onwards by Thomas Ogden.
Tracks include the classic "Afterglow", the nice "Rene", "Lazy Sunday" and "Song of the Baker", this one with Ronnie Lane on vocals.
The Small Faces Greatest Hits Album , coming out in 2020 A great compilation of Small Faces cuts released worldwide on the Immediate Records label. A-sides, rare B-sides, classic hit singles such as Itchycoo Park, Lazy Sunday, Here Come the Nice, Tin Soldier, The Universal, Afterglow Of Your Love , (and absolute classic) and more. The single versions are included, newly remastered from recently discovered original mono master tapes by Matt Colton. 

Ian McLagan dies, a tribute...
Great Interview with drummer Kenny Jones.
Enjoy this site? Share with friends!