The Hollies
The Hollies proved themselves to be one of the most popular bands from the British Invasion Era.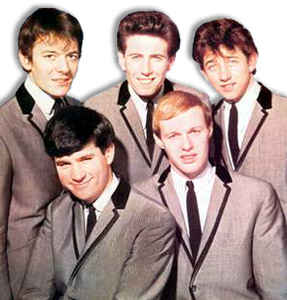 The Hollies in the early '60's. Eric Haydock and Bobby Elliott, (front) with Graham Nash, Allan Clarke and Tony Hicks standing.
The Hollies have proven over many years to be one of the most consistently popular and long-lasting groups from the beat era. First signed by EMI in the post Merseyside search for more Beatles, bands, the Hollies continue to perform to this day. They got there name from Buddy Holly, as the Beatles got there's from the "Crickets".
Their first single "Ain't That Just Like Me"  went to No.26 in England, "Searchin'" followed and got to No.12. Continuing the upward trend "Stay" was a hit at No. 8, and then "Stay" at No. 8
---
The Hollies Arrive
"Just One Look" really broke the band a cover of Doris Troy got them to No. 2, was a No. 4 hit, and finally "I'm Alive" with Graham Nash on vocals reaching No. 2, just behind the Beatles.     
 The Hollies had arrived.   
 From there, "Here I Go Again" reached number 4, and finally "I'm Alive" got to the coveted Number one spot in May 1965.                               The original line up was Allen Clarke on vocals, Tony Hicks, lead guitar, Graham Nash, rhythm and vocals, Eric Haydock, bass, and Bobby Elliott, who came over from Shane Fenton's Fentones, on drums.
---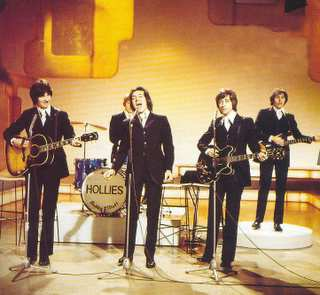 New line up, 1975, with Terry Sylvester, far left on guitar, and Bern Calvert, right, on bass
Changes, and more Hollies Hits!
Eric Haydock was replaced by Bernie Calvert in '66.                          The hits kept coming for the Hollies, "Look Through Any Window", No.4 in '65 George Harrisons "If I Needed Someone" , No. 20 also in '65.
From there, until the present day, through line up changes and changing music styles the Hollies have persistently come up with high quality music.
Bobby Elliott and Tony Hicks remain as the original members. Alan Clarke went to live make music with Dave Crosby, Stephen Stills, and sometimes Neil Young. Ex Escorts guitarist, Terry Sylvester replaced him admirably.
Swedish singer Mikael Rickfors sang  "The Baby" when Alllan Clark left for a while, but came back with the smash No. 2 in the USA "Long Cool Woman in a Black Dress" in 1972, followed by the classic "The Air That I Breath" , No. 2 in U.K. and No. 6 in the U.S.A.
---
Vinyl Records by The Hollies.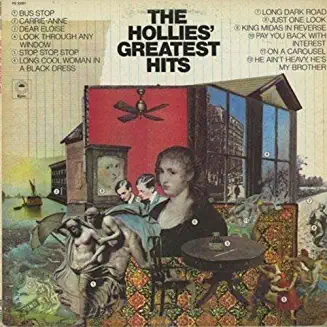 There does not seem to be a lot of Hollies around on vinyl. However, there is enough to get a good selection into your collection. A good one to start with is this Greatest Hits album, put out by Epic in 1973. It's a good collection of the discs that were a hit in the U.S. between '65 and '72, so it will give you some great listening. Included is "Carrie Anne" "Bus Stop" "Long Cool Woman" (a must) and of course "He Ain't Heavy" .
This was a controversial album. It lead to the departure of founder member Graham Nash, who went off to America, and many fans thought "hang on, how can they do better that Dylan himself?"  But the album reached No. 3 on the U.K. charts, and remains a popular record today, and the songs always went over well in the live shows. It was Terry Sylvester's initiation into the Hollies. Tracks include "Mighty Quinn" "I'll Be You're Baby Tonight" "Just Like a Woman"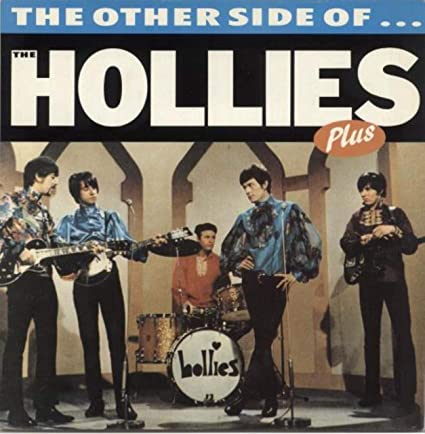 This album I know very little about. But there are some good reviews about it. All these tracks are B sides of singles, most of them being written by band members. It came out in 1978 on Parlophone and did not make the charts, but has sold steadily since. For true fans and collectors.
Ready to be confused?                                                                   
"Butterfly" was recorded at Abby Road Studios in late 1967, and released in November that year. The 7th Hollies studio album, their second  for 1976, and the last to feature Graham Nash. None of the tracks were released as singles and all tracks were written by Clarke-Nash-Hicks, with Nash doing most of the vocals.
The U.S. version featured a different cover, and was re-named "Dear Eloise/King Midas in Reverse. It came out on Epic records in November '67. 
Enjoy this site? Share with friends!