The Byrds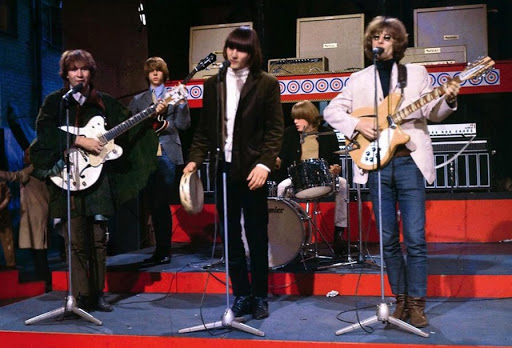 The Byrds the original line up, (LtoR) Dave Crosby, Chris Hillman, Gene Clark, Michael Clark, and Jim McGuinn.
The Byrds helped put American music back in the charts
Formed by a very experienced group of musicians in Jim McGuinn vocals guitar, (Later called Roger McGuin), Gene Clark, vocals guitar, Chris Hillman bass , vocals, Michael Clarke, drummer, and David Crosby, guitar and vocals.
Getting together  in Los Angeles, California in 1964, they underwent multiple line-up changes throughout its existence, with front man Jim McGuinn remaining the sole consistent member Although their time as one of the most popular groups in the world only lasted for a short period in the mid-1960s, the Byrds are today considered by critics to be among the most influential rock acts of their era Their signature blend of clear harmony singing and McGuinn's jangly twelve-string Rickenbacker guitar, (bought after seeing George Harrisons 12 string Rickenbacker) was "absorbed into the vocabulary of rock" and has continued to be influential.
---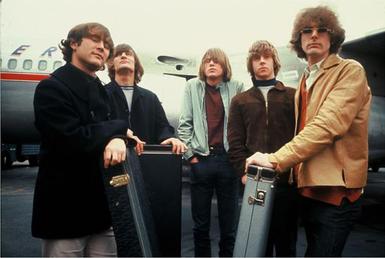 Yet another tour, (LtoR) Dave Crosby, Gene Clark, Michael Clark, Chris Hillman and Jim McGuinn.
The Byrds Ever-Changing Line Up
All members were experienced musicians, except for drummer Clarke, but he looked good with a Beatle haircut, so he was in!
Trying to keep track of their personnel changes is challenging, with many changes over the coming years. Some of these include, as well as the five mentioned: Kevin Kelly, (Drums 1968) Gram Parsons,    (Guitar Keyboards 1968), Clarence White,(Lead Guitar,  Vocals, 1968-1973), Gene Parsons, (drums, harmonica, guitar, vocals, 1968-1972), John York,(Bas, vocals), and Skip Battin, (Bass vocals, 1969-1973). That's not band persistency from Roger McGuinn, the only consistent member.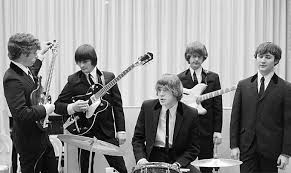 ---
Chart Success For The Byrds
On January 20, 1965, the Byrds entered Columbia Studios in Hollywood to record "Mr. Tambourine Man" for release as their debut single on Columbia. Since the band had not yet completely gelled musically, McGuinn was the only Byrd to play on "Mr. Tambourine Man" and its Clark-penned B-side, "I Knew I'd Want You". Rather than using band members, producer Terry Melcher hired a collection of top session musicians, retroactively known as the Wrecking Crew, including Hal Blaine (drums), Larry Knetchel (bass), Jerry Cole (guitar), and Leon Russell (electric piano), who (along with McGuinn on guitar) provided the instrumental backing track over which McGuinn, Crosby and Clark sang. By the time the sessions for their debut album began in March 1965, Melcher was satisfied that the band was competent enough to record its own musical backing.
"Mr. Tamborine Man" was a huge hit for the band, reaching No. 1 in the U.S., and the U.K. Here in Adelaide in also reached the No. 1 spot, although there seemed to be more interest in Bob Dylan than the Byrds for a while.
Next was "All I Really Want To Do" went to No. 1 in the U.S.A. No. 11 U.K.
Biblical "Turn Turn Turn" followed, (Pete Seeger song) made No.10 in U.S.A., and marked a switch from efforts going into singles to albums.
Album sales were not spectacular, but many of those albums still sell steadily today.
ABOVE: The stable Byrds line up 1970, (L to R) Roger McGuinn, Skip Batten, Clarence White, Gene Parsons.
---
The Byrds Albums on Vinyl
There is still a good selection of Byrds albums available on vinyl. One can get a taste of the various line ups buy getting the first album, "Mr. Tambourine Man" and one of the greatest hits L.P's.
| | |
| --- | --- |
| The first of the Byrds Greatest Hits Albums, and the top selling album in their catalogue. It was released in August 1967, and reached No. 6 on the U.S. charts, but did not register in the U.K. 11 tracks including "I'll Feel a Whole Lot Better", "Mr. Tambourine Man", "5D", "Rock and Roll Star"  and "All I Really Want To Do". A great L.P., and one that's on high rotation at my home. | The album that helped kick start The Byrds, and the first American album to challenge the British domination. Released inJune 1965 it and the single of the same name helped coin the phrase "Folk Rock". It got to No. 6 in the U.S. and No. 7 in the U.K. It features, as well as the title track "I feel a Whole Lot Better", "We'll Meet Again", "Chimes of Freedom", 11 tracks in all. |
---
Like its predecessor, Mr. Tambourine Man, the album epitomized the folk-rock genre and continued the band's successful mix of vocal harmony and jangly twelve-string Rickenbacker guitar, purchased after seeing George Harrisons guitar The album's lead single and title track, "Turn! Turn! Turn!", which was adapted by Pete Seeger from text in the Book of Ecclesiastes, had previously been arranged in a chamber-folk style by the Byrd's lead guitarist Jim McGuinn for folk singer Judy Collins' third album but the arrangement he used for the Byrds' recording of the song utilizes the same folk-rock style as the band's previous hit singles.

11 tracks include "It Wont Be Long", a nice version of "Oh Susannah", and "The Times They Are A Changin'"

Fifth Dimension is the third album the band , released in July 1966 on Columbia Records  Most of this album was recorded following the departure of the band's principal songwriter Gene Clark , so guitarists Jim McGuinn and David Crosby stepped into the breach and increased their song writing output . This resulted in an album with a total of four cover versions and an instrumental, (Captain Soul) 

Other tracks included Eight Miles High , Fifth Dimension and Mr. spaceman. The album peaked at number 24 on the Billboard Top LPs chart and reached number 27 on the UK Albums Chart.It received a lukewarm reception, but has grown in status over the years and continues to sell consistently.
---
Enjoy this site? Share with friends!