The Animals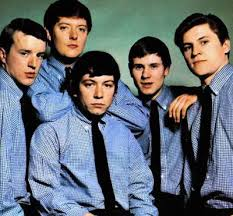 The Animals, tidied up for an early publicity shot. From left, John Steele, Chas Chandler, Eric Burden, Alan Price and Hilton Valentine
The Animals turned a "to boring, to long" song into a No. 1 hit!
Newcastle can be a tough town, and with the Animals it produced one of the best, smoothest British blues bands of the 60's. Their music was hard and aggressive, and unique in its communication with its followers.
Beginning as the Alan price combo in 1960, the line-up included Price on keys, Hilton Valentine on Guitar, Chas Chandler handling the bass, and John Steele behind the drums.
Eric Burden came along in 1962, when they changed their name to The Animals. By the end of '63, they were the top band in Newcastle, and producer Micky Most was persuaded to take the trip north to check them out. This resulted in a contract with Columbia records, with Most to be their producer.
This resulted in their first record, a re working of the Bob Dylan song, "Baby Can I Take You home"
---
The Animals hit No. 1!
This got to No. 15 in  the NME charts in April 1964. They started in London at the Crawdaddy Club, and went on tour with Chuck Berry.       When it was time for a follow up single, Mickie Most suggested the Bob Dylan "House of the Rising Sun", whish he had wanted as their first single. The Columbia executives overruled him and at the time, saying the song was " to long and to boring". 
This time, they agreed, and it came out in June '64, hitting No. 1 in July.
---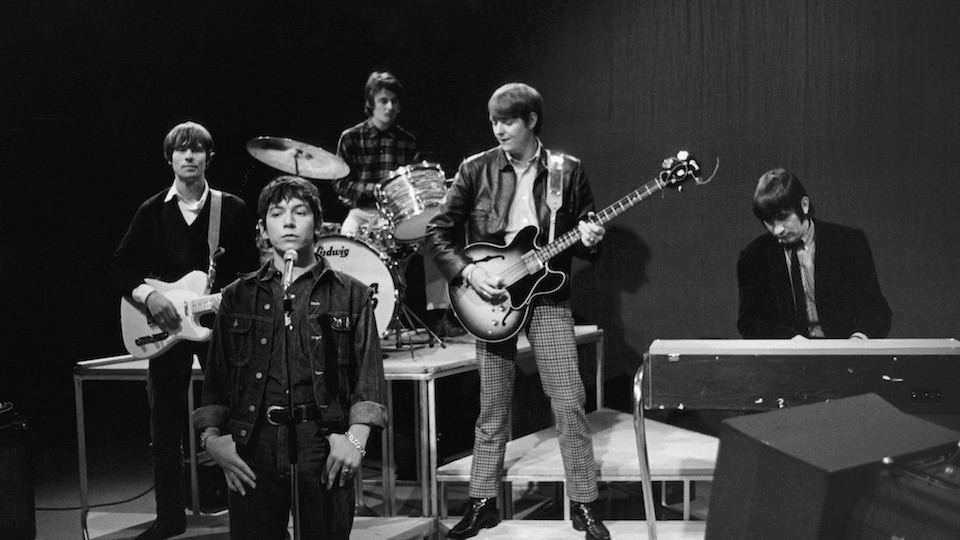 The new members of the Animals on T.V. in 1966. Hilton Valentine, Eric Burdon, new drummer Barry Jenkins, Chas chandler, and new keyboard player Dave Rowberry
It also made No. 1 in the USA, resulting in their first tour of America in the summer of 1964. I'm Crying followed in in September of that year, and 1965 saw the Animals in the top ten four times with "Don't Let Ne Be Misunderstood" No. 3 in February,  "Bring it on Home to Me" in April No.7 , "We've Gotta Get Out Of This Place" got to No. 2 July and "It's My Life" in  October reached No. 7.
---
Changes in the Animals
By now the pressure was starting to mount. Alan Price hated air travel, so left and formed the Alan Price Set. Drummer John Steele departed, due to exhaustion,  and was replaced by veteran drummer Barry Jenkins. Jenkins had had quite a career, being originally with the Nashville Teens, and was hired by Burden without an audition.
Barry Jenkins, fitting in to the Animals lineup behind the drums.
There was also some dissatisfaction with some of the materiel chosen for Animals, and this resulted in them leaving Mickey Most and Columbia Records, signing wit Decca.
"Inside Looking Out" (No 12, May '66 on Decca) and their last hit with this line-up "Don't Bring Me Down", (No. 6 on Decca) saw the band disband altogether. Eric Burden formed Eric Burden and the Animals with Mick Briggs, Barry Jenkins and Danny McCullough on Bass.  After two hits , "When I was Young" and "San Francisco Nights" he disbanded that band, and for a while, joined War. 
Chas Chandler went on to discover and manage Jimi Hendrix and Slade. He died in July 1996.
---
The Animals on Vinyl
The album that introduced the band to the US, with their typical drawling, dirty R&B sound. The album includes the classic "House of the Rising Sun", "Girl Cant Help It" and "Right Time" plus some classic R&B standards.
---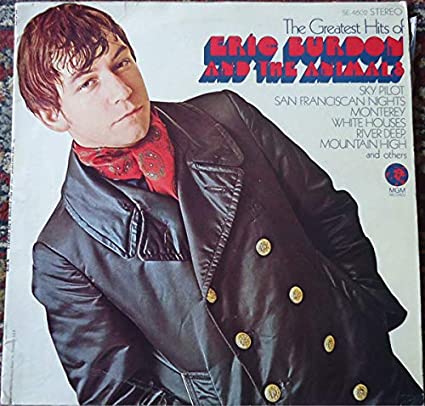 This album is a 1969 American release with nine tracks from the new Eric Burden and the Animals line up. 9 tracks including "Sky Pilot", "Monterey" and "San Francisco Nights? 
Enjoy this site? Share with friends!