Sounds Incorporated
Sounds Incorporated, the original line up: (L to R) John St. John, Wes Hunter, Tony Newman, Alan Holmes, (front), Griff West and Barrie Cameron.
Sounds Incorporated.... the only band that was good enough to open for The Beatles.
Sounds Incorporated came from Kent, formed in 1961 as a six man purely instrumental band. They were one of the first, if not the first to feature brass, not guitars of the Shadows and Ventures style of the time.
The band featured Alan "Boots" Holmes and "Major" Griff West, (born David Glyde) both on Sax, Keyboard/Sax player Barrie Cameron (born Baz Elmes), Guitarist John St. John (Born John Gillard) , Bass handled by the ever smiling Wes Hunter, (born Dick Thomas) and dynamic drummer Tony Newman, (born Richard Anthony Newman).
---
The band built up a solid reputation backing many American artists such as Gene Vincent, Little Richard, Sam Cooke and others, learning the acts songs well in advance of their arrival. An exciting stage act and professional approach took them to London, and to Hamburg in Germany where they played at the Star Club where they met and befriended the Beatles.
This led in 1963 to Brian Epstein signing them, resulting in becoming Cilla Blacks regular backing band. They toured Australia in 1965, and I was one of many to catch them at the now demolished Palais Royal on the night of March 22, 1965.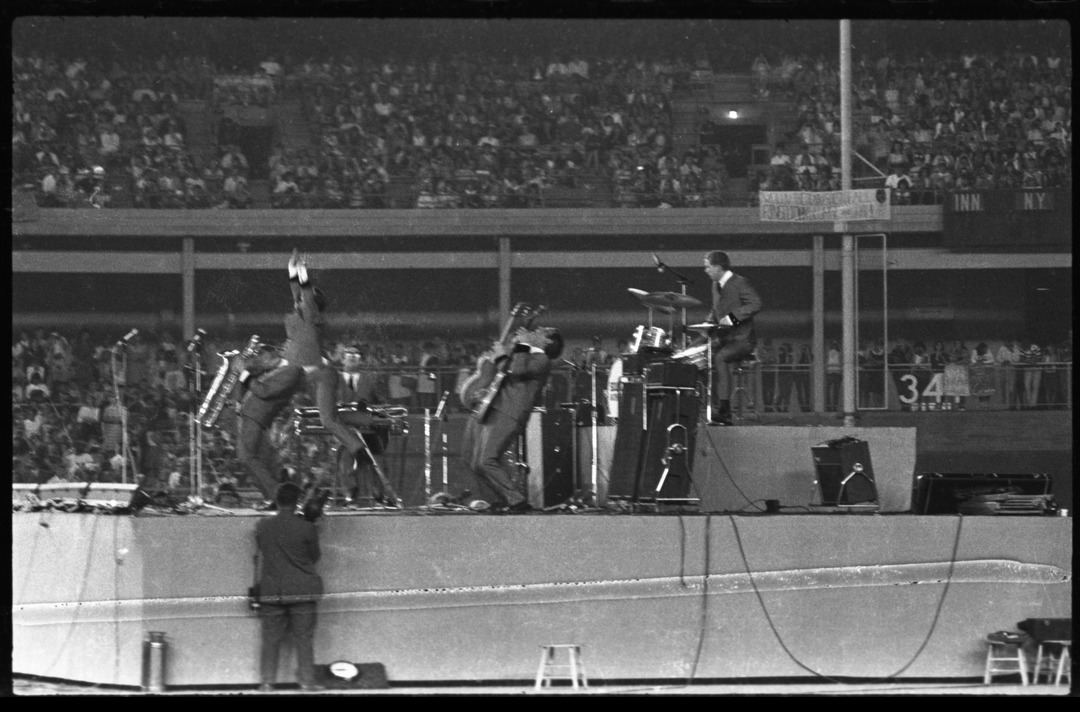 The amazing Shea Stadium, New York City concert. Sounds Incorporated opening for The Beatles, August 15 1965
And of course, Sounds Incorporated toured the world with the Beatles, reportedly being the only band that could open for them. Having seen Sounds Inc open for the Beatles in Adelaide in 1964, I believe this could be true.
They were SUPERB that night.
It is interesting that Sounds Incorporated finished their set with "The William Tell Overture", which of course was the tune played at the Cavern as The Beatles took the stage. The band released that song, and another showstopper from their live set "Maria" which was a hit in Australia in many countries including here in Australia.
---
Putting in their usual dynamic performance, a club anywhere in England. Barrie Cameron on the keyboard, and new drummer Terry Fogg behind the kit.
---
You can here the horn section of the band, Cameron Holmes, and Griff West to play on the "Sgt. Peppers" track "Good Morning, Good Morning".
Two albums followed, both confusingly called "Sounds Incorporated" .Tony Newman departed in 1966 to do session work and spent time with The Jeff Beck Group. Barrie Cameron left the same year and was replaced by Trevor White.
Sounds Incorporated travelled to Australia in1969, working around the night clubs of Sydney and also Sam's Disco in Adelaide. They quit in 1971, some staying in Australia, where Trevor White became a regular performer.
---
Sounds Incorporated in their typical line up. Complete with a couple of "Go-Go" girls, an appearance on British television.
---
Sounds Incorporated On Vinyl
The Sounds Incorporated Album was released in June 1964. It contains 10 tracks including the showstoppers "Maria" and "William Tell" plus 8 other excellent tracks.

Check this and other Sounds Incorporated albums still available.
Enjoy this site? Share with friends!