Roy Orbison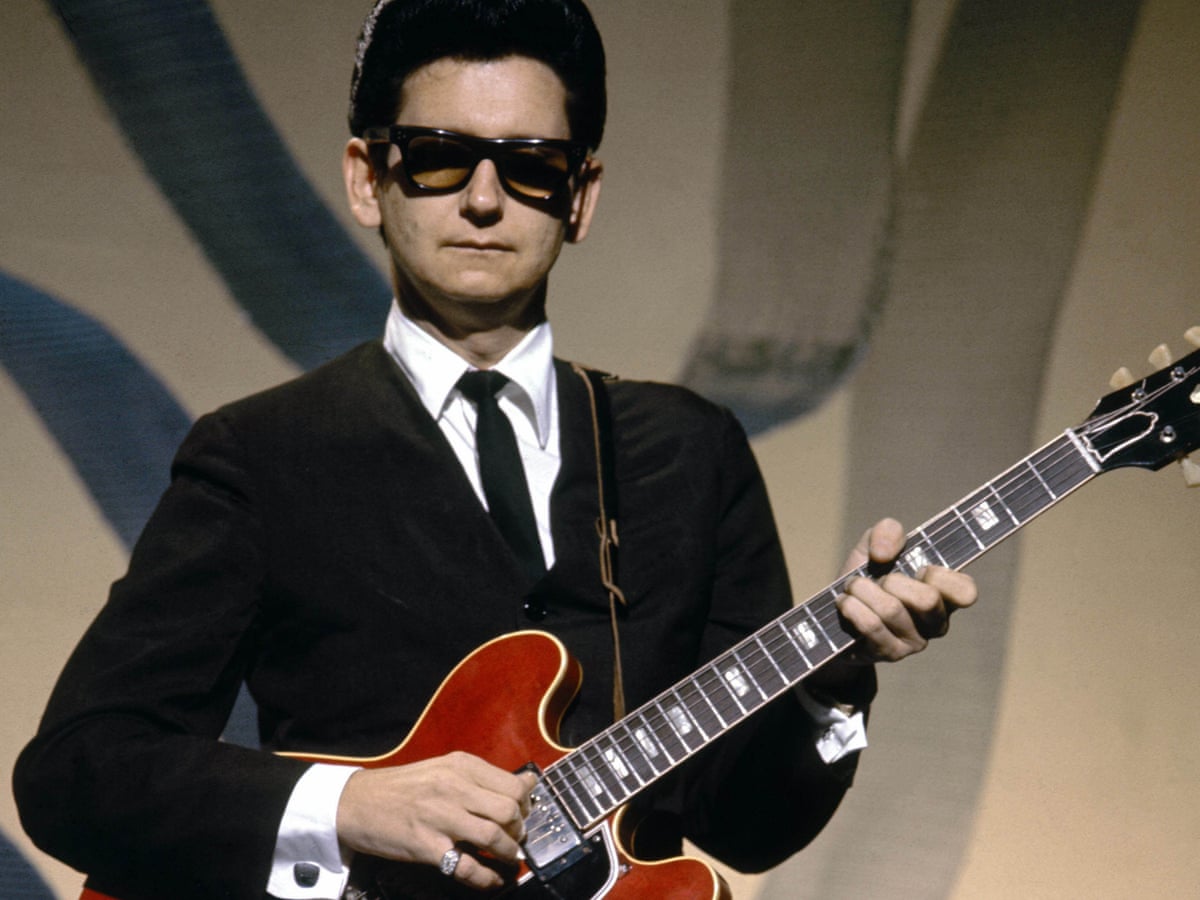 The classic Roy Orbison, dark glasses, slicked back hair, gleaming red Gibson 335 guitar.
Roy Orbison was one of the Few Beatlemania Survivors!
Roy Orbison was one of the few artists to survive Beatle mania in the U.S. He had a surprise No. 59 hit in the U.S. with "Ooby Dooby" on the famous Sun label in 1956.   "Claudette" was a hit for the Everly Brothers in 1957, (No. 30 in 1957).After a stint as a songwriter for Acuff Rose, Roy hit with the ballad "Only the Lonely", a marriage of R&B and classic country. The song had been offered again to the Everly Brothers, and Elvis, but both turned it down.
Roy then recorded the song at RCA in Nashville. The band I was in at the time had a girl singer, and we played this song to death, really badly.
This classic reached No. 2 USA and No. 1 UK.
---
Roy Orbison and His Hits
This was the beginning of a string of hits, co written by Joe Melson and Bill Dees. "Blue Angel", "Running Scared", (the one that really turned me on to Roy) "Crying". "Dream Baby", and "In Dreams" all top 10 hits between 1960 and 1963.
It's over got to No. 1 in the UK.
Then "Oh Pretty Woman" , a great ballad with real beat, went No 1 in both USA and UK .By the end of 1965 Roy had made the U.K. top 40 17times,  and the USA top 40 20 times.
He was one of the few artists, along with Elvis Presley, to survive after Beatlemania. His songs have been covered by artists such as Don McLean, (Crying") and Linda Ronstadt, ("Blue Bayou").
Roy went with the times, adopted a Beatles haircut but his hits dried up.
The Beatles were great fans of Roy, the original "Please Please Me" was written in Foy Orbison style.
---
Rory starred in the rather dodgy film "The Fastest Guitar In The West", a film I saw on a flight to London. As I remember, it featured Roy and a guitar with rifle built in!
In 1966 Roy's wife Claudette was killed in a motor bike accident.
His cover of Don Gibson's "Its To Soon To Know" got to No 4 in the UK.
Things got worse for Roy, as in 1968, two sons were killed in a house fire. He was then reduced to touring the clubs, remaining a big live draw.
His career remained quiet, until 1988 when Orbison began collaborating with Electric Light Orchestra bandleader Jeff Lynne on a new album. Lynne had just completed production work on George Harrison's Cloud Nine album, and all three ate lunch together one day when Orbison accepted an invitation to sing on Harrison's new single. They subsequently contacted Bob Dylan, who, in turn, allowed them to use a recording studio in his home

Roy, seated left, with the Travelling Wilburys. Bob Dylan, next to Roy, George Harrison, seated right, Jeff Lynn, standing left and Tom Petty.
---
Roy Orbison Becomes a Travelling Wilbury
Lynne later spoke of the recording sessions: "Everybody just sat there going, 'Wow, it's Roy Orbison!' ... Even though he's become your pal and you're hanging out and having a laugh and going to dinner, as soon as he gets behind that microphone, and he's doing his business, suddenly it's shudder time." The band's debut album, Traveling Wilburys Vol. 1 (1988), was released on October 25, 1988. Orbison was given one solo track, "Not Alone Anymore", on the album. His contributions were highly praised by the press.                                                I was fortunate to see Roy Orbison twice here in Adelaide. Absolutely no presentation at all, just him with his dark shades, and his amazing voice. On the same show were The Rolling Stones, who got non with Roy very well,  and The Newbeats.
The audience were in awe of Roy, and and his great backing band, a truly great performer.
---
Roy Orbison On Vinyl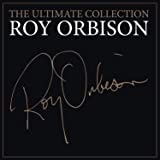 Roy's Ultimate Collection
Roy's Boys LLC, the Nashville-based company founded by the sons of Roy Orbison to administer their late father's catalogue and safeguard his legacy, has teamed up with Legacy Recordings and Sony Music Entertainment Australia, to release 'Roy Orbison – The Ultimate Collection.'
The 26-track anthology spans four decades, from his start at Sun Records in the mid 1950s, all the way through his massive comeback in the late '80s. The collection chronicles Orbison's work both as a solo artist and with supergroup Traveling Wilburys until his tragic death at the age of 52.
The Ultimate Collection' marks the first time ever that any Roy Orbison compilation album has incorporated tracks from all of the aforementioned sources.
Side 1
1             Oh, Pretty Woman          
2             I Drove All Night              
3             You Got It           
4             Crying   
5             Only The Lonely (Know The Way I Feel)  
6             In Dreams           
7             Love Hurts          
Side 2
1             Claudette            
2             Blue Bayou         
3             Dream Baby (How Long Must I Dream)   
4             Walk On              
5             Falling   
6             Running Scared 
7             California Blue  
Side 3
1             Leah     
2             Mean Woman Blues       
3             Crawling Back   
4             Ride Away          
5             Too Soon To Know           
6             She's A Mystery To Me  
Side 4
1             Blue Angel          
2             It's Over              
3             Ooby Dooby       
4             Heartbreak Radio            
5             Not Alone Anymore        
6             Handle With Care           
---
Enjoy this site? Share with friends!