Peter and Gordon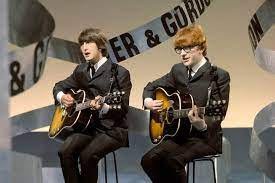 Peter and Gordon, Peter Asher (right) and Gordon Waller, (Left) in an early British T.V. appearance.
Peter and Gordon  Found Fame in the 60's...
With a Little Help from a friend!
Gordon Waller was born in Braemar, Aberdeenshire, Scotland, the son of a prominent surgeon. They all moved to Middlesex, where the young Waller gained entrance to Westminster School. While attending Westminster School, he met fellow student Peter Asher, also the son of a doctor, and they began playing together as a duo – Peter and Gordon. They found they could harmonize well, their two different voices combining nicely.
The two while at Westminster often performed late night engagements at the Pickwick Club owned by Harry Secombe. They would scramble over the school gate with their guitars, once resulting in Gordon getting a spike through his shoe resulting in permanent damage.
Most importantly, peter Asher was the brother of Jane Asher, Paul McCartney's girlfriend at the time.
A Helping Hand Gives Peter and Gordon Hit
With their Gibson Guitars, Peter and Gordon were constantly on both English and American T.V,
Harry Secombe recommended the duo to recording manager Norman Newell, who signed them to Columbia Records. Although Newell wanted them to record the folky "500 miles", Peter Asher liked "A World Without Love" a Paul McCartney song the Beatles were not going to use.
Ironically, this knocked the Beatles "Can't Buy Me Love" from the No. 1 spot in the U.K.
This was followed up with "Nobody I Know" (US #12; UK #10), "I Don't Want To See You Again" (US #16, but not a hit in the UK), and "Woman'.
With "Woman", McCartney used the pseudonym Bernard Webb to see whether he could have a hit song without his name attached. First pressings of the US Capitol single listed the composer as "A. Smith". The song reached #14 in the US and #28 on the UK Singles Chart in 1966. Peter and Gordon also recorded the John Lennon-penned Lennon–McCartney song, "If I Fell", which was previously recorded by The Beatles and released on their 1964 album, A Hard Day's Night.
Other hits for the duo included "I Go to Pieces" (US #9), written by Del Shannon and given to Peter and Gordon after the two acts toured together. They also recorded remakes of Buddy Holly's "True Love Ways" (US #14 and UK #2 in 1965), and The Teddy Bears' "To Know Him Is to Love Him", retitled "To Know You Is To Love You" (US #24 and UK #5 in 1965).
Peter and Gordon had their last hit in the UK in late 1966 with "Lady Godiva", which reached #16 there (and #6 in the US).
It is said "Lady Godiva" was censored by the Mayor of Coventry, who obviously was not a fan of the boys.
This was followed by the very silly "Knights in Rusty Armour" which reached the upper areas of the UK and US charts.
Splitting in 1968 after management problems, Peter worked as manager at Apple Records, where he created a very profitable business. Peter managed James Taylor, and then Linda Ronstadt.
Gordon Waller played Pharaoh in the musical Joseph and the Amazing Technicolor Dreamcoat.
They reformed briefly to do a benefit concert for Mike Smith from the Dave Clark 5, and Gordon died in Connecticut in 2009.
The Story Behind Peter and Gordons "I Go To Pieces"
In an interview with American Songwriter, Asher explained how he and Gordon Waller got a hold of the song "I Go To Pieces" while on tour with Del Shannon only after several others passed on it. "We subsequently discovered that he had also offered the song to some people in America even before this tour," Asher says of "I Go To Pieces." "My first awareness of it was that we were touring with Del Shannon and the Searchers and he was playing it to them. I can't remember if we were in the room or if we heard it from outside their dressing room or whatever. But I am certain that he had played the song for them and they had politely decided that it wasn't for them. Which, I actually think was a mistake. With their great style and that jangly electric 12-string they could have made a killer record of it. But, fortunately, they didn't."

"I remember saying to Del that we really liked it and could we try and work up a version of it. Gordon and I spent some time on it on the road or in soundcheck or whatever and thought it sounded pretty good. So we asked Del please don't give it to anybody else and when we get back we can record it."
Asher didn't expect this kind of material coming from Shannon, known for sprightly hits like "Runaway" and "Hats Off To Larry." "I honestly was very surprised when he played us the song," Asher remembers. "Because all the Del Shannon songs that I knew were his hits. They're all in A-minor and they all have this sort of groove to them. And this didn't. This was a very different sort of song."
It was the sort of song that anyone who has ever endured a fractured romantic relationship and its painful aftermath can understand. The narrator spends the song trying to convince his eyes and arms to avoid his ex, only to be rebuffed by his own body parts. He tries to rise above it but he keeps getting dragged by down by sights and thoughts of her. It leads to the devastatingly direct chorus: "I go to pieces and I wanna hide/ Go to pieces and I almost die/Every time my baby passes by."
Yet the harmonies of Peter and Gordon somehow manage to soften the blow. "It did come naturally to us," Asher explains of the duo's vocal chemistry. "But we were also educated by years of listening to the Everly Brothers, learning all their songs. There's no question that we got it from the Everlys in the same way that they got it from the Louvin Brothers. Everybody learned harmony from singing along to great duet records. And we were no exception to that rule."
Asher says that he initially didn't register the depths of the sorrow contained in 'I Go To Pieces.' "In the beginning, I didn't realize how miserable it was," he laughs. "I just heard the melody and thought it sounded great. But it's a very sad song. What's interesting is it's not just an 'I've lost her' song. It's an 'I've lost her, I can't get her back, and I can't get over her.' It's kind of grim."
"But the record we made was not as sad as the song is when you actually read the words. Cause it's a bouncy sort of record. I just thought it was a cool song. I liked the little guitar lick at the beginning. I liked the whole structure."
Playing the song these days during his live shows, Asher occasionally steers into the wounded nature of the lyrics. "I do a version with Albert Lee. I get to play rhythm guitar while Albert is a genius (on the guitar.) But we do a version of 'I Go To Pieces' that's very different. It's way slow and makes you suddenly realize how sad the song is. We do a version that is actually more fitting to the lyric and less like a hit. But it sounds kind of cool. And it does get you a different perspective on the song."
No matter how he plays it, Asher says the song wins over the fans, even if it takes them a beat or two. "You say 'I Go To Pieces,' the Del Shannon song, and it always gets a ripple. But the biggest reception is when you start it. It's one of those songs where people don't necessarily remember the name and, indeed, it does run into the confusion of 'I Fall To Pieces,' the Patsy Cline song, and all that stuff. A lot of people only recognize it properly when they start to hear it. So it gets a bigger reaction with the intro and the first few lines than it does from the title."
Peter Asher has achieved a multitude in his amazing career. But he still holds a special fondness for this sad little gem of a song from all those years ago. "That's one of the records that I'm prepared to be judged by," he muses. "It came out pretty well. When I'm listening to the 60s station in my car, I do turn it up and I'm happy that it's me."
Peter and Gordon on Vinyl
Peter and Gordons "True Love Ways" came out in 1965 by Capitol Records. ten tracks including the Buddy Holly, Norman petty title track. Also has "Crying In The Rain" Carol King/Bert Greenfield) an Phil Spector's "To Know You is to Love You"
Enjoy this site? Share with friends!