Paul McCartney
Paul McCartney, with Joe English on the drums, opening with "Venus and Mars" Adelaide, November 5th 1975
Paul McCartney, from The Beatles, to Solo, to Wings and back.
As a confirmed, addicted Beatles fan, having bought every Beatles single, album and EP's (remember EP's), I was of course disappointed at their demise. So when Paul McCartney got himself together again and brought out "McCartney" I guess my reaction was similar to many others out there. "What's the point? How can he EVER beat his previous work?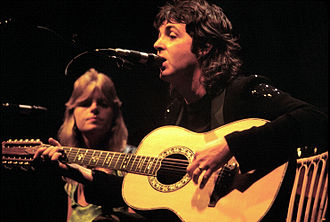 Paul plays acoustic guitar as Linda looks on, 1976.
So it wasn't until I heard "Band On The Run" played over the P.A. at a concert at Memorial Drive here in Adelaide that I thought "Hey!.....this is not to bad!"
So, I decided to give Paul McCartney a fair go. At the time, Paul was not popular, and most experts here knocked his work.
And, when John bought out albums, they were always regarded as "better that anything McCartney has done"
My Paul McCartney Favorites!
---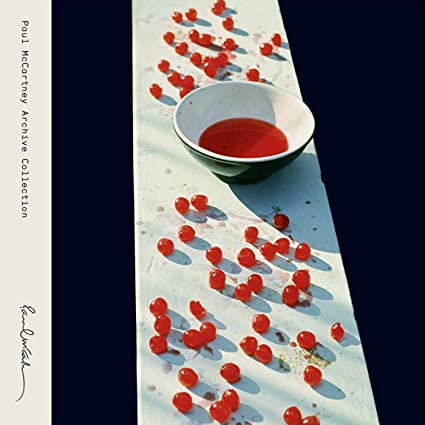 The McCartney Album
This if course was Paul McCartney's first solo effort, causing some friction with the other Beatles, as it came out just before "Let It Be" Still being in morning for the Fab Four, I ignored it for quite a while, as it meant that this really was the end of The Beatles. However, it is a really nice album. And it has "Maybe I'm Amazed" on it, written about Linda and getting out of the Beatles. A classic song, arguably his best ever, became a staple song in Paul's live performances.
The album also features "The Lovely Linda", "Every Night", (magic guitar riffs) and "Man We Was Lonely"
---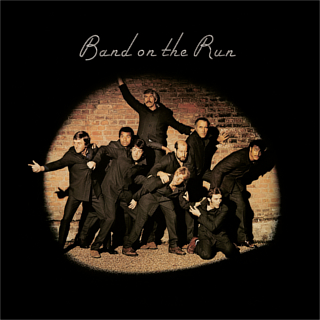 "Band On The Run"
The album that finally got me, )and many many others) into Paul's career. One of the all time classic albums with Paul, Denny, and Linda , it has stood the test of time and sounds as good today as it did on release. Opening with "Band On the Run", and then into "Jet" there is also "Let Me Roll It" ""Picasso's Last Words (Drink to Me)" , and "Mrs. Vanderbuilt". Essential album!
---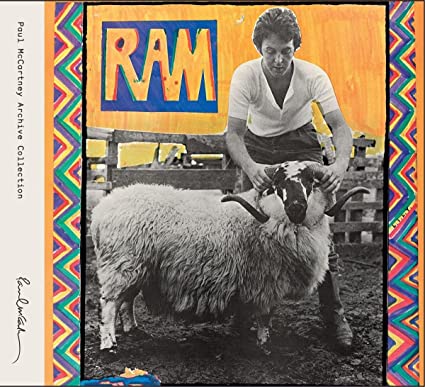 The "Ram" Album.
Coming out in 1970, the follow up to his first album, this record has grown in status since the original release. I took again, a long while to get into it. I mean, a sheep on the cover? full of very personal songs, digs at John and the Beatles, it also had the it record, "Uncle Albert/ Admiral Halsey "  on it.  Also "To Many People", "Ram" and my fave "The Back Seat of My Car"
---
"Tug of War"
Made with producer George Martin, I was right into Paul by now. I grabbed this album as soon as I could, and it still gets a regular spin on the turntable.
Coming out in 1982, "Tug of War" received an unusually response from most critics, saying things like.."..its the album we all knew Paul was capable of making". It made No. 1 on the UK and US charts, No 2 here in Australia. The single "Ebony and Ivory", the duet with Stevie Wonder also got to number one in many countries. Also on the album is "Tug of War", "Take It Away", "The Pound is Shrinking" "Ballroom Dancing" the duet with Carl Perkins and "Somebody Who Cares".
---
"Flowers In The Dirt"
By the time "Flowers In The Dirt" came out I was not keeping up with the latest releases, McCartney's or anybody else's. So it wasn't till I read somewhere that "Georges Brainwashed album was the best solo record by a Beatle since Paul's Flowers In The Dirt". So I thought I better take notice!   Featuring a stunning line up of backing musicians including Dave Gilmour on Guitar, and Nicky Hopkins keyboard, this album  won a Grammy Award in the States and a Brit Award in England. Among the 12 tracks are the single "My Brave Face", plus "Figure of Eight", and "You Want Her To", sung with Elvis Costello. This album was well received, and made No. 1 in the UK, and 13 in the US.
---
Run Devil Run
Ah, the "Rock and Roll" album! I heard of this album when I saw Paul on the Michael Parkinson show when he did "Honey Hush". In the band was Dave Gilmour and Ian Paice, so you can imagine how good it was. One of my all time favorites, it even got a good reception from critics, Rolling Stone saying "
" It's a testament to the quality of McCartney's three original songs — the title track, "Try Not to Cry" and "What It Is" — that they don't sound out of place with these short but sweet chestnuts."
Tracks include two Elvis classics "All Shook Up" and "I Got Stung", plus "Lonesome Town" , 15 tracks in all.
Paul McCartney "McCartney 1","McCartney 11",and "McCartney 111"  Box Set.
Here are Paul's eponymous albums, all of which were written, performed and produced by Paul. McCartney 1 is from 1970, 2 from 1980 and the last from 2020.
McCartney 1 released as the Beatles folded featured the classics "Every Night", and "Maybe I'm Amazed" still one of his all time great songs.
McCartney 11, coming out after the demise of Wings, reached No. 1 in the U.K. and No. 3 in the US. "Waterfalls", "Coming Up" and "Bogey Music" are among the classic avant- garde album.
Then, to cap it all off, McCartney 11 comes out in December 2020. OK, on some tracks Paul's voice is not what it used to be, but its back to basics, and after a couple of listens, I think contains some of his best work. It went ell, reaching No. 1 in both the UK and USA. I liked "Find My way" and the interesting  "Kiss of Venus"
---
Paul McCartney "The Lyrics" Book
Tracing Paul's songwriting from 1956, through his early days, The Beatles era to his solo career and with Wings. an essential collection of the story behind the songs.



---
Enjoy this site? Share with friends!