Johnnie Ray
Johnnie Ray, combined good looks, passion and stage performance in his act.
Johnnie Ray, the First to Get the Girls Swooning and Screaming!
Way, way back, in Adelaide I think it was in 1958, I bought my first ever LP record.
It was by Johnnie Ray, the album was "Live at the London Palladium"
John Alvin Ray (January 10, 1927 – February 24, 1990) was an American singer, songwriter, and pianist. Highly popular for most of the 1950s, and was probably my introduction to live music.
I was lucky enough to see Jonnie in action twice. Once in Sydney at the Sydney Stadium, in 1954 as a kid, and then in Adelaide in 1956.
In Adelaide the show was at the memorial Drive tennis courts, and it rained. Ushers brought out a raincoat for johnnie, but he refused saying, "If they are going to get wet, (the audience) then I'll just get wet!"
I actually joined the Johnnie Ray Fan Club!! I got a lovelly black and white photo sent to me with a welcoming letter. the photo stayed on my bedroom wall for many years!
Johnnie Ray was completely different from anything that went before him.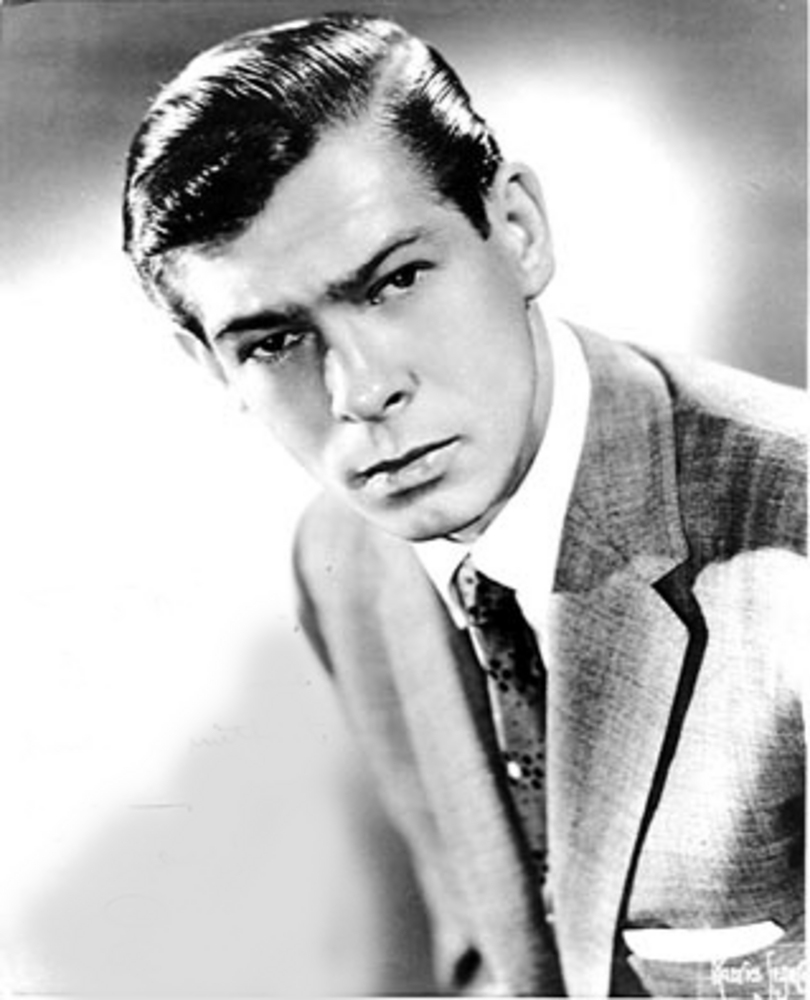 The Johnnie Ray look, that caused teenage girl riots at concert halls around the world.
In the early 1950s, Johnnie Ray was arguably the biggest musical star in the world. His emotional singing and sexually suggestive performances earned him a string of No. 1 hits and making him probably the first artist cause teenage riots erupting wherever Johnnie Ray went.
Johnnie Ray first attracted attention after a series of shows at a black nightclub in Detroit called "The Flame Club Bar". Here he said he developed his distinctive emotional and physical style of performing. Wandering around the stage, tearing at his hair while waving his arms, dropping to the floor, contort his face, as the tears flowed freely. His performances were brilliant, singing with real passion.
"Cry" Gets Johnnie Ray on the Charts!
His first record, "Cry" backed with "The Little White Cloud that Cried" (both with backing vocals by the Four lads) was an instant hit, and spent eleven weeks at the Number One position, eventually selling three million copies.
Johnnie had over 20 No. 1 hits including "Please, Mr. Sun," "Here Am I-Broken Hearted," and "Walkin' My Baby Back Home." He made well over a million dollars a year throughout much of the 1950s, sold out shows around the world, and appeared in a number of movies, including There's No Business Like Show Business with Ethel Merman and Marilyn.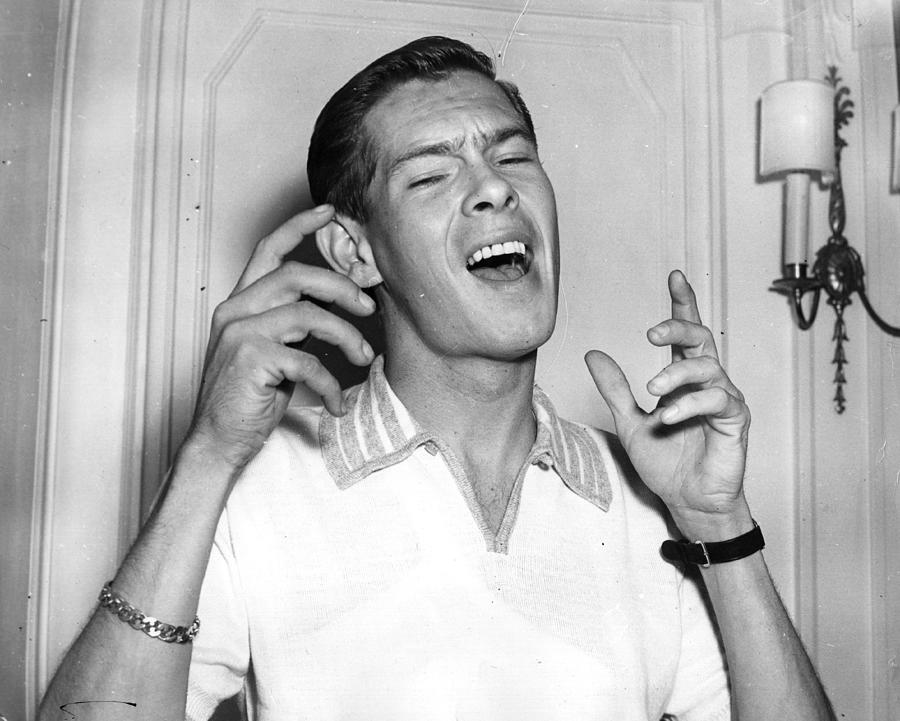 Typical Johnnie Ray recording session. Showing the emotion he put into every session and live performance.
But in the late fifties, he began to fade from the scene, as his lifestyle began to catch up with him. A known substance abuser and strong rumors of his sexuality, Johnnie hit the cabaret circuit. As the music scene changed Johnnie slid from the scene., but still had a following in the UK and here in Australia.
Johnnie Ray died in Los Angeles of liver failure on February 24, 1990. He paved the way for Elvis and the overt sexual energy of rock and roll. He has been credited by the Beatles, Bob Dylan, and Elton John as being a formative influence on their artistic styles.
Was Johnnie Ray Bisexual?
Of course back when I was a Johnnie Ray fan, I knew nothing about the birds and the bees. So, it was only recently I found out about this unknown side of one of my big musical influences.
Before Ray hit the big time, in the early fifties, he was arrested in Detroit, Michigan, for accosting and soliciting an undercover male vice-squad police officer for sex in the restroom of the Stone Theatre. Johnnie appeared in court, pleaded guilty to the charges, and was released Because he was not a big star at the time, the local press did not get on to the story. After his rise to fame the following year, rumours about his sexuality began to spread as a result of this incident.
Despite all this, Johnnie married Marilyn Morrison, daughter of the owner of the Mocambo nightclub, married Ray when at the peak of his American fame.
Aware of Ray's unorthodox sexuality, Morrison told a friend she would "straighten it out." The couple separated in 1953 and divorced in 1954.
In 1959, Ray was arrested again in Detroit for soliciting an undercover officer at the Brass Rail, a bar that was described many years later by one biographer as a haven for musicians, and by another biographer as a gay bar.[6] Ray went to trial following this second arrest and was found not guilty. Two years after his death, several friends shared with biographer Jonny Whiteside their knowledge that Ray was bisexual.
Johnnie Ray's Vinyl
Johnnie Ray, American Legend came out in the UK in 1979, and captures just about all of Johnnies big hits. An ideal album to get hear Johnnie's unique. passionate style of singing.
Side 1
1                            Cry
2                            Yes Tonight, Josephine
A                            Song Of The Dreamer
4                            Just Walking In The Rain
5                            All Of Me
6                           Please Mr. Sun
7                          Such A Night
8                          Look Homeward Angel
Side 2
1                            Walkin' My Baby Back Home
2                            The Little White Cloud That Cried
3                            Build Your Love (On A Strong Foundation)
4                            Hey There
5                            Faith Can Move Mountains
6                            Who's Sorry Now
7                            Somebody Stole My Gal
B                            Hernando's Hideaway
A1 to A6, A8, B1, B2, B4 and B7 are electronically rechanneled for stereo
Enjoy this site? Share with friends!