Hermans Hermits
Hermans Hermits, in the typical clean cut, classy British style of the 60's. From left, Keith Hopwood, Karl Green the bass player, Lead Guitarist Derek Leckenby, Herman, (Peter Noone) on vocals, and drummer Barry Whitwam.
Hermans Hermits, the Clean Cut Very British Band in the British Invasion's First Wave
Hermans Hermits was formed in Manchester in 1963from two different local bands. Originally called The Heartbeats, but Mick Most changed the name on becoming the bands producer. The  name came from a resemblance, between Noone and Sherman from the Rocky and Bullwinkle cartoons. Sherman was shortened to Herman and then became Herman and His Hermits, which was then shortened to Herman's Hermits.
Keith Hopwood (rhythm guitar, backing vocals), Karl Green (lead guitar, backing vocals), Alan Wrigley (bass), Steve Titterington (drums) and Peter Noone (lead vocals) came from the Heartbeats where Hopwood had replaced rhythm guitarist Alan Chadwick.The second-youngest member of a young group (four months older than Karl Green who was originally in the Balmains),15-year-old Peter Noone was already an experienced actor on the popular British TV soap opera Coronation Street.
Derek "Lek" Leckenby (lead guitar) and Barry Whitwam (drums) (born Jan Barry Whitwam) joined later from another local group, the Wailers. Whitwam replaced Titterington on drums, Green switched to bass guitar (replacing Wrigley) and Leckenby took over for Green as lead guitarist. After Leckenby joined the band, the group made a deal with producer Mickie Most and signed with EMI's Columbia label in Europe and MGM Records in the United States.
Herman's Hermits Find Something Good!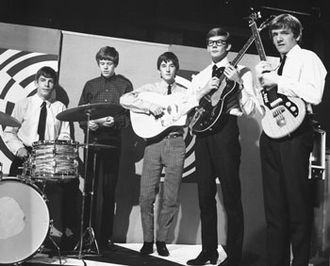 Preparing for another British T.V. show, miming another hit.
Harvey Lisberg discovered them and signed on as their manager. He sent a plane ticket to London record producer Mickie Most so that he could fly to see the band play in Bolton. Most, already a success with the Animals, became the group's producer and controlled the band's output. He emphasized a simple and non-threatening clean-cut image.
Their chart debut was a cover of Gerry Goffin and Carole King's "I'm into Something Good" (a then recent US Top 40 hit for Earl-Jean) in September 1964, making number one in the UK singles chart and in December reached no. 13 in the US. The Hermits never topped the British charts again, but in America in 1965—when Billboard magazine ranked them America's top singles act of the year (with the Beatles at no. 2)—they topped the Hot 100 with two non-UK releases: "Mrs. Brown You've Got a Lovely Daughter" and "I'm Henry VIII, I Am" (a cover of the 1910 Cockney-style music hall song "I'm Henry the Eighth, I Am"). The no. 12 debut of "Mrs. Brown" on the Hot 100 in April 1965 was the decade's third highest (behind the Beatles' "Hey Jude" and "Get Back").
Hermans Hermits Hits continue
Between late 1964 and early 1968 Herman's Hermits never failed to reach the Top 40 in the States. Six of their 11 US Top Tens were not released as A-side singles in their native UK, including the two afore-mentioned number ones plus "Can't You Hear My Heartbeat" (no. 2), "Listen People" (no. 3), a cover of Noel Gay's 1937 song "Leaning on a Lamp-post" (no. 9, under the title "Leaning on the Lamp Post") and their version of Ray Davies's "Dandy" (no. 5). Conversely, they hit big in Britain between 1968 and 1970 with several major hits which failed to register in America, among them the four Top Ten "Sunshine Girl" (no. 8), "Something's Happening" (no. 6), "My Sentimental Friend" (no. 2) and "Years May Come, Years May Go" (no. 7). Their final UK hit, "Lady Barbara" (no. 13), released in the autumn of 1970, was credited to 'Peter Noone & Herman's Hermits'.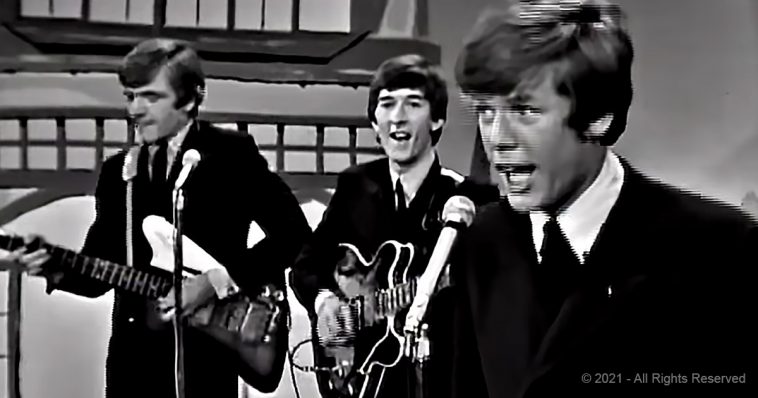 Plugged in and belting it out! A live TV show showing Karl Green, Keith Hopwood, and Peter Noone.
There is still controversy over whether the band played on their recordings.
Some say they only played on three, Mrs. Brown, "I'm Into Something Good" and "Henry V111").
Mickie Most stated that the Hermits "played on a lot of their records, and some they didn't." The group played on all their UK and US no. 1 hits ("I'm into Something Good", "Mrs. Brown You've Got a Lovely Daughter" and "I'm Henry VIII, I Am"), on most of their US Top Ten singles, on a number of other singles and on most album cuts.
In an interview with "Forgotten Hits"about the hit "No Milk Today", singer Peter Noone said "This was in the period where we (Mick and I) had just stopped using The Hermits on the recordings and were using the best musicians available to us to try to keep up with what had suddenly become The British Invasion. We were supposed to deliver 48 tracks a year to MGM so we were always scrambling to catch up. I recall that John Paul Jones played bass guitars (an upright and a fender bass) on the tracks and was also responsible for the arrangements which I dare say are brilliant on all three tracks but I know he liked 'No Milk Today' and I would suggest that his arrangement turned this perfect Graham Gouldman song into a hit. I think that after we had the tracks down then I did the lead vocal and then Karl Green, Keith Hopwood and I did the backgrounds, the songs were mixed and that was it."
Hermans Hermits on Vinyl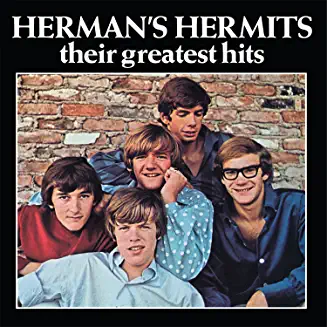 A classic collection. The band had a steady run of good songs, choosing good song writers and doing an excellent job recording them. "Henry V111" , 16 great tracks in all.
Enjoy this site? Share with friends!