George Harrison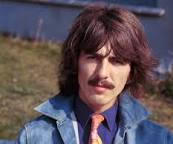 George Harrison was The first Beatle to breakout with his own album.
George Harrison was the first of the Beatles to release a solo album, bringing out "Wonderwall Music" while the band was still together, on November 1, 1968.
This was also the first album to be released on Apple Records.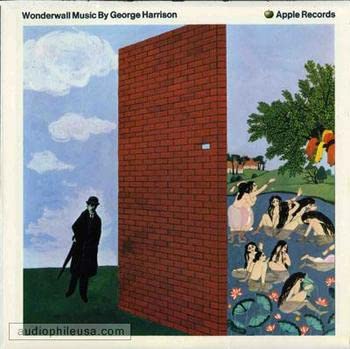 Sessions were split between London and Bombay where the Beatles were getting into transcendental meditation. It has a distinct Eastern sound, George collaborating with some fine Indian musicians, along with Ringo Starr and Eric Clapton.
Critical reception was good, with Record World's reviewer said that Wonderwall Music was an example of the Beatles beginning to "stretch out on their own separate tethers".
The album reached No. 39 on the Cashbox charts.
---
George Harrisons Breakthrough Album!!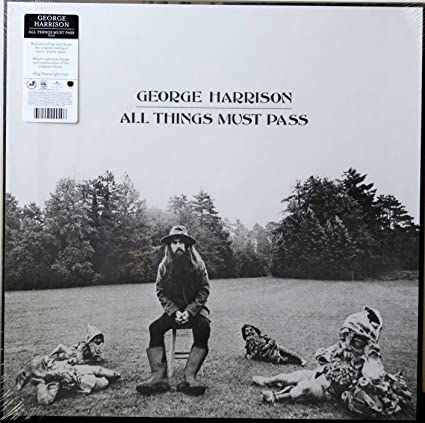 All Things Must Pass
This 3-disc album, coming out in November 1970, is where George Harrison's solo career really was firmly established. A stunning triple album (had to go one better than the white album) it is where George came of age as a writer. Georges slide guitar is in full flight and again the album features sidemen Ringo Starr, Eric Clapton, Billy Preston and members of the Delaney and Bonney group.
Reception to this album was particularly good, NME critic Bob Woffinden concluded in 1981: "All in all, Harrison's credibility was building to a peak."[
Classic tracks in this album include "My Sweet Lord", "What is Life" "All Things Must Pass" and "Wah Wah".
The album went to No. 1 in the UK, Australia, the U.S., and most other countries. It has often been credited as being the best solo album of any Beatle.
---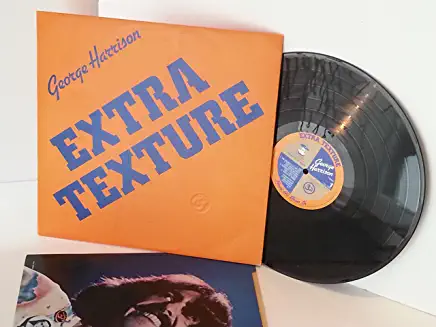 Extra Texture, (Read All About It!)
This album, Georges seventh, followed the "Dark Horse" album which was a disappointment. Coming out nine months after, on September 17, 1975, George was still reeling from the "Dark Horse" bad reception. Soul sound. It is the only George Harrison album not to have a spiritual song featured.
This album gets away from the Indian influence, folk style, heading into keyboard and guitar
Still a bit on the melancholy side, slightly lifted by the tracks "Can't stop Thinking about You", "Tired of Midnight Blue" and the hit single "You". The album peaked at No. 8 in the U.S., and 16 in the U.S.
---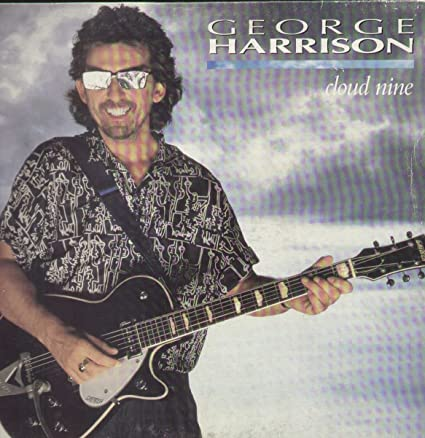 Back to peak Form, the "Cloud Nine Album"
This classic album was released on November 2, 1987.
This was after a five-year break, following the disaster of the "Gone Tropo" album. Here, George Harrison  proved that he was far from a spent force. "Cloud Nine" was on a par with, some say better than "All Things Must Pass"
A lot of credit must go the Jeff Lynn, who George worked with on the "Travelling Wilbury's" project. And, of course there was the usual array of great side-kicks including Elton John, Eric Clapton, Jim Keltner, and Gary Wright to lend a hand.
Harrison's cover of Rudy Clark's little-known song "Got My Mind Set on You" quickly reached number 1 in the United States and number 2 in the United Kingdom. It was Harrison's first single to top the US charts since "Give Me Love (Give Me Peace on Earth)" in 1973. A few weeks later, Cloud Nine was released to high anticipation and a favourable critical reception. In a 2001 review, AllMusic editor Stephen Thomas Erlewine gave the album five stars. He wrote that, with Lynne's help and "the focus on … snappy pop-rock numbers", Harrison "crafted a remarkably consistent and polished comeback effort with Cloud Nine", which Erlewine considered "one of his very best albums".
Also on this album is "This is Love", "Devils Radio" "Wreck of the Hesperus" and, of course, "Cloud Nine"
---
The Final George Harrison Album.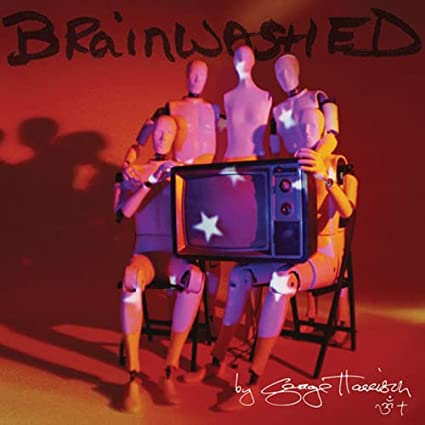 The Final Album....."Brainwashed"
Following up the classic Cloud 9 was always going to be tough.
But on 18 November 2002, almost a year after his death at age 58, and 15 years after his previous studio album, Cloud Nine was released. Recordings began over a decade before Harrison's death but were repeatedly delayed. The album's overdubs were completed by his son Dhani, session drummer Jim Keltner, and long-time friend and collaborator Jeff Lynne.
Again, reception to the album was good. Writing in Uncut, Nick Hasted described it as "the best solo record by a Beatle since McCartney's Flowers in the Dirt (1989)
Great tracks include "Any Road", "Rising Sun" and "Stuck inside a Cloud", 12 tracks in all.
Amazingly, it is 50 years since George Harrisons "All Things Must Pass" was released So a 50th Anniversary, George Harrison's, All Things Must Pass, is being celebrated with selection of new releases featuring a new mix of the classic album by Grammy Award-winning mixer/engineer Paul Hicks, overseen by executive producer Dhani Harrison. The 5LP (180g) Deluxe Edition contains an all-new remix by Paul Hicks. Spread across 5 LPs, the first 3 LPs feature the main album followed by 2 LPs containing 17 tracks of demo recordings, session outtakes and studio jams. Includes 8-page insert with photos and notes from Dhani Harrison and Paul Hicks on remixing the album.
Naturally, this and "Cloud Nine" are my fave George albums.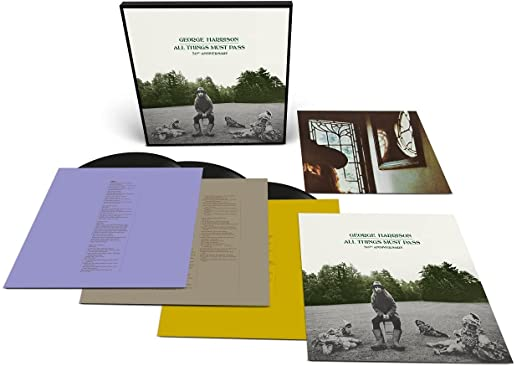 The 50th Anniversary "All Things Must Pass
Amazingly, it is 50 years since George Harrisons "All Things Must Pass"
So Harrison's masterpiece, is being celebrated with a suite of new 50th anniversary editions, including multiple limited physical and digital configurations featuring sessions outtakes and jams on August 6th, 2021. All versions are available now.
Decades in the making and lovingly crafted by the Harrison family, All Things Must Pass has now been completely remixed from the original tapes for this stunning release that fulfills Harrison's longtime desire. Executive produced by Dhani Harrison and mixed by triple GRAMMY® Award-winning engineer Paul Hicks (The Beatles, The Rolling Stones, John Lennon), the new mix transforms the album by sonically upgrading it – making it sound brighter, fuller and better than ever before. Formats contain various ephemera, including a scrapbook curated by Olivia Harrison, replica gnomes, original album poster and much more.
The 5LP (180g) Deluxe Edition contains an all-new remix by Paul Hicks. Spread across 5 LPs, the first 3 LPs feature the main album followed by 2 LPs containing 17 tracks of demo recordings, session outtakes and studio jams. Includes 8-page insert with photos and notes from Dhani Harrison and Paul Hicks on remixing the album.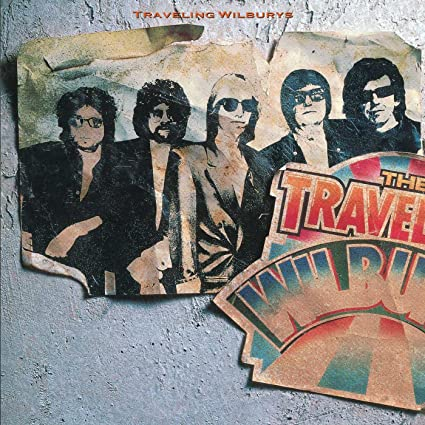 The Travelling Wilburys 
The Traveling Wilburys supergroup consisting of Bob Dylan, George Harrison, Jeff Lynne, Roy Orbison and Tom Petty. Originating from Georges  idea and discussed with Jeff Lynn, (The Move, Electric Light Orchestra) during the sessions for Harrison's 1987 album Cloud Nine. They got together with Bob, Roy and Tom in April 1988 after the five members united to record a bonus track for Harrison's next European single. When this collaboration, "Handle with Care", was deemed too good for such a limited release, the group agreed to record a full album, titled "Traveling Wilburys Vol. 1". Following Orbison's death in December 1988, the Wilburys released a second album, which they titled Traveling Wilburys Vol. 3, in 1990.
The project's work received much anticipation given the diverse nature of the singer-songwriters. The band members adopted tongue-in-cheek pseudonyms as half-brothers from the fictional Wilbury family of travelling musicians. Vol. 1 was a critical and commercial success, helping to revitalise Dylan's and Petty's respective careers. In 1990, the album won the Grammy for Best Rock Performance by a Duo or Group.
Originally George wanted a series of Wilburys albums and a film about the band, produced through his company HandMade. After several years of unavailability, the two Wilburys albums were reissued by the Harrison estate in the 2007 box set The Traveling Wilburys Collection. The box set included a DVD containing their music videos and a documentary on the band's formation. The vinyl issue has both Volume 1 and Volume 3, plus a bonus album with 7 tracks.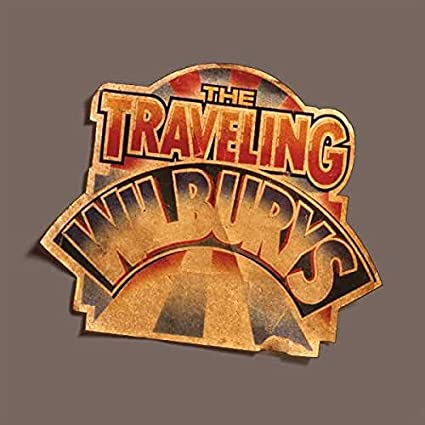 The Travelling Wilburys Collection
Coming out in the US in 2016, the  Collection album has the Volume 1 and 3 albums, plus a bonus lp.
Track Listing for this package is...
LP One – Vol.1:
Handle With Care (3.20)Dirty World (3.30)Rattled (3.00)Last Night (3.48)Not Alone Anymore (3.24)Congratulations (3.30)Heading For The Light (3.37)Margarita (3.15)Tweeter And The Monkey Man (5.30)End Of The Line (3.30)Maxine (2.49)Like a Ship (3:30)
LP Two:
Handle With Care (Extended Version)Like A Ship (Originally Unissued)Maxine (Originally Unissued)End Of The Line (Extended Version)Nobody's ChildNot Alone Any More (Remix)Runaway (Remix)
LP Three – Vol.3:
She's My Baby (3.14)Inside Out (3.36)If You Belonged To Me (3.13)Devil's Been Busy (3.18)7 Deadly Sins (3.18)Poor House (3.17)Cool Dry Place (3.37)New Blue Moon (3.21)You Took My Breath Away (3.18)Wilbury Twist (2.56)Nobody's Child (3.28)Runaway (2.30)
Enjoy this site? Share with friends!