Fleetwood Mac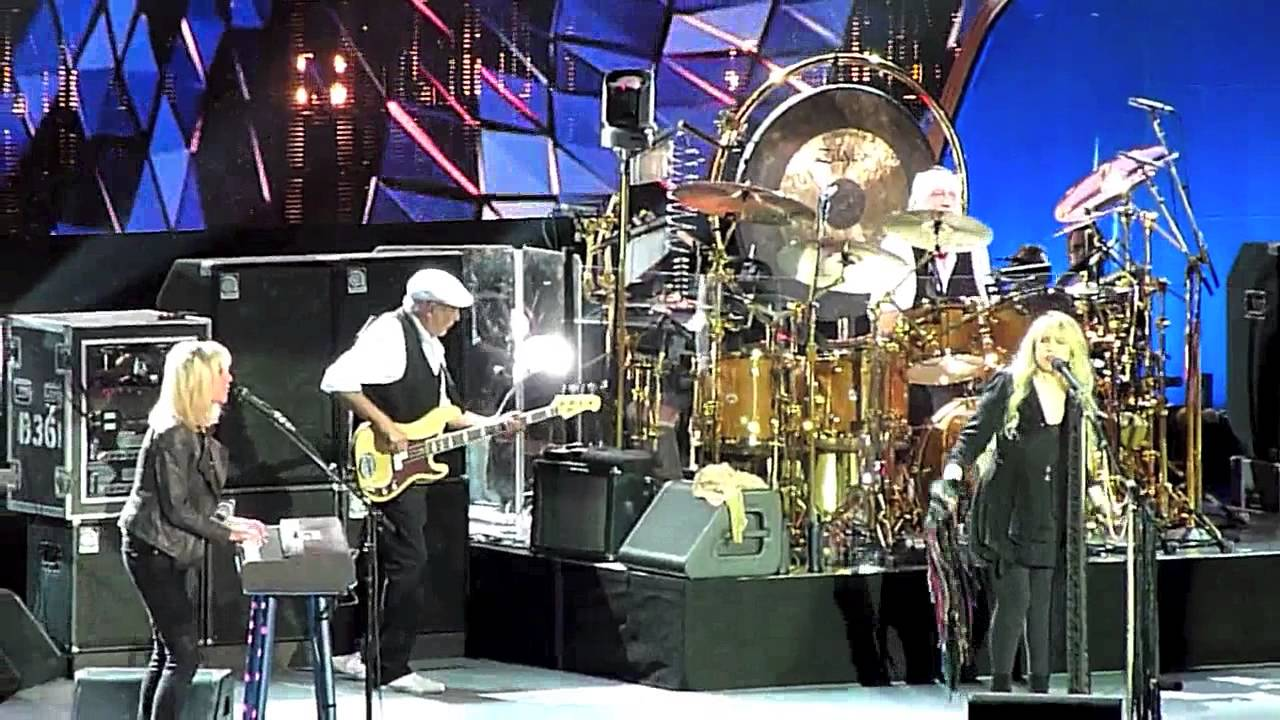 Fleetwood Mac om stage. Christine, John, Mick and Stevie.
The British Blues Band that became and Anglo American pop sensation!
Fleetwood Mac! Mention that name to anyone today, and they will instantly know who we are talking about. The comment will be something like "Yeah, love 'em. Lindsay and Stevie, what a band" And when one says," What about the early  stuff, with the many other line ups?" one is greeted with a blank stare and the comment "Isn't that the original  line up?"
To write the history of Fleetwood Mac would involve an encyclopedia size book. Mick Fleetwood has done a great job with his "Play On" book, a highly recommended classic.
---
How did Fleetwood Mac Get Started?
The band was founded by Peter Green, who played in John Mayall's legendary Bluesbreakers.
Peter gave the band the name Fleetwood Mac, after drummer Mick Fleetwood, and bassist John McVie. Green even then, knew he would not be around for the long term, so used those two names, not his. Jeremy Spencer filled out the group, and their first L.P. "Fleetwood Mac" came out in in 1968, and was followed by Mr. Wonderful the same year. Two top 40 singles "Black Magic Woman" and "Need Your Love so Bad" came out the same year
Fleetwood Mac their second line up. Danny Kirwin, John McVie, Mick Fleetwood, a hidden Peter Green, and Jeremy Spencer.

---

Danny Kirwan was added as an additional guitarist, giving the band a wider scope, Kirwan in the style of B.B.King, Spencer a great Elmore James slide player gave the band a varied range of styles.
---
| | |
| --- | --- |
| "Albatross" a haunting instrumental was a surprise hit in late 1968, the very nice "Then Play On", (Fleetwood's Fave album) came out in '69. L to R, Kirwan, Spencer, Fleetwood, Green, McVie. | Fleetwood Mac in happier times. (L to R) Danny Kirwin, Jeremy Spencer, Mick Fleetwood, Peter Green, and John McVie. |
---
Then Comes The Changes.....and more changes!
Peter Green, finding religion and other substances, departed in 1970, and was replaced by Christine Perfect, (later McVie) who came from the band Chicken Shack. The Melody Maker headline announcing this event stated "Christine perfect replacement for Peter"
---
The post Peter Green Jeremy Spencer Fleetwood Mac. L to R, Danny Kirwin, Christine McVie, Mick Fleetwood, Bob Welch and John McVie.
From there, it was a continuous coming and going of personnel. How Mick, John and Christine hung in there is lesson in persistence.  Jeremy Spencer quit suddenly after joining as religious sect, and Californian Bob Welsh moved in.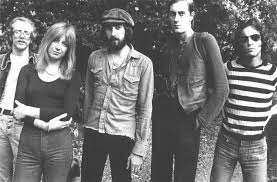 ---
Danny Kirwan had a breakdown, smashed his  Les Paul Gibson, and quit just before a concert. He  refused to go on, then criticized the band after the show , and was fired.

In September 1972 the band added guitarist Bob Weston and vocalist Dave Walker, formerly of Savoy Brown and Idle Race. Bob Weston was well known as a slide guitarist. Fleetwood, The McVie's, Welch, Weston and Walker recorded the band's seventh studio album, Penguin which was released in January 1973. After the tour the band fired Walker because they felt his vocal style and attitude did not fit well with the rest of the band. He only wanted to do Savoy Brown type music. Bob Weston also got the flick for getting to friendly with Mick Fleetwood's wife.

---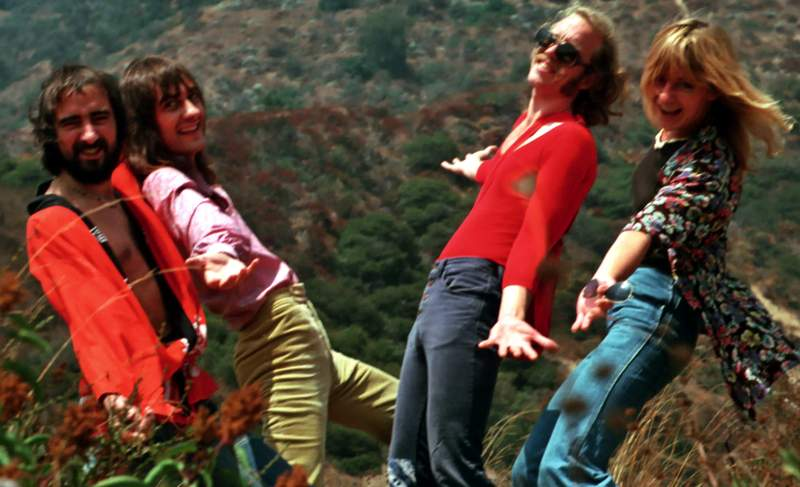 Legal hassles, management hassles and line-up changes resulted in two years of little action for the band. Relocating to the U.S., the band fired their manager and decided to manage themselves.
Fleetwood Mac finally find success in the face of adversity!
Suddenly, n 1974 the after band moved to the U.S. and Bob Welch departed the band. After Welch decided to leave the band, Fleetwood began searching for a replacement. Whilst he was checking out the Sound City Studios in Los Angeles, the house engineer played him a track he had recorded, "Frozen Love" from the album "Buckingham Nicks"(1973). Fleetwood liked it and was introduced to the guitarist from the band, Lindsey Buckingham, who was at Sound City that day recording demos. Fleetwood asked him to join Fleetwood Mac and after a successful meeting,  Buckingham agreed, on the condition that his music partner and girlfriend, Stevie be included. Buckingham and Nicks joined the band on New Year's Eve 1974, within four weeks of the previous incarnation splitting.
In 1975, the new line-up released "Fleetwood Mac" , their tenth studio album. The album was a breakthrough for the band and became a huge hit, reaching No.1 in the US and selling over 7 million copies. Among the hit singles from this album were Christine McVie's "Over My Head" and "Say You Love Me" and Stevie Nicks's "Rhiannon". The album reached No. 6 on the U.K. charts and No.109 in the U.S.
---
For more on Fleetwood Mac check out this Rolling Stone article.
---
The album reached No. 6 on the U.K. charts and No.109 in the U.S.
Fleetwood Macs "Then Play On Album"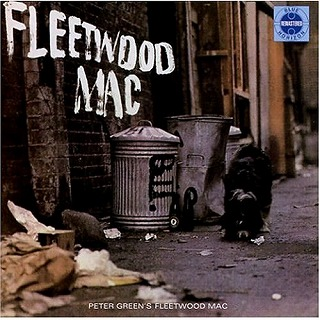 "Fleetwood Mac"......the first album by the original four piece line up.The bass on "long Grey Mare" is played by Bob Brunning, who stood in for John McVie who was weighing up whether to risk leaving John Mayall for the Fleetwood's. This album has the great "Shake You're Money Maker","I Loved Another Woman", and "World keeps Turning" which popped up later, reworked, on the "Fleetwood Mac" album featuring Buckingham and Nicks. 
Mr. Wonderful ..the second Fleetwood Mac album, and was greeted with a rather mute response. "All Music " rated it 2/5. Tracks include "Dust My Broom", "Need You're Love So Bad" and "Evenin" Boogie" their first instrumental.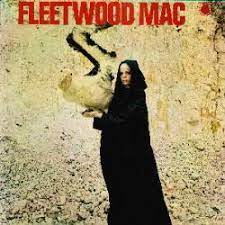 The Pious Bird of Good Omen...this is an excellent compilation album of Mac's single releases ans B sides. Released in 1969 it received good reviews, being called "excellent" by Rolling Stone Magazine. Includes "jigsaw Puzzle Blues" "Need You're Love", and of course "Albatross", hence the bird on the cover.
Mystery to Me....the album features stalwarts Christine, John and Mick, plus both Bob Welsh and Bob Weston. released in October 1973, it was their 8th studio album. Songs written mainly by Christine and Welch, steering the band to a more pop orientation. "Emerald Eyes", "Hypnotized" and an interesting "For Your Love" are features. A good album, early signs of things to come.
---
Enjoy this site? Share with friends!