Elvis Presley

        
The man that turned the music world upside down!..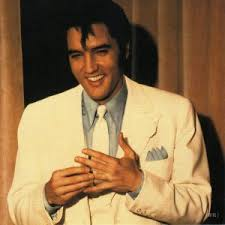 It was Elvis Presley that really got it all started. 
He was young, had sideburns for heavens sake, and he was OURS! Parents hated him, (luckily, mine didn't) I did not really understand what he was all about until much later, when I saw him on T.V. 
What made Elvis Presley So Different?
Was it the sneery smile? Or the slicked back long hair? Everyone before had the neat back and sides. Or was it those amazing swinging hips?                                                                                                          It was all of that, plus his unique singing style and selection of songs, songs not heard before on mainstream radio. Hi early Sun recordings were inspired by Sam Phillis who wanted to bring African American music ton a wider audience.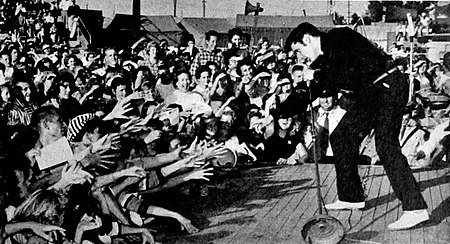 Nothing like this had been heard or seen before. Scotty Moore was on guitar, Bill Black on bass, and D.J. Fontana on drums, the classic lineup.  RCA Victor acquired his contract in a deal arranged by Colonel Tom Parker, who would manage him for more than two decades. Presley's first RCA single, "Heartbreak Hotel" was released in January 1956 and became a number-one hit in the United States. With a series of successful network television appearances and chart-topping records, he became the leading figure of the newly popular sound of Rock and Roll.

But, back from the army 1962, his influence was waning. It had been decided that the records were not enough, they must have Hollywood. So it was in between films that songs came out. "Are You Lonesome Tonight" (smooth MOR), "Surrender" was up tempo, "Little Sister" and "His Latest Flame" were good songs, but the "Return to Sender" "In The Ghetto" and "One Broken Heart" were pretty droll. We'd been abandoned!
Most of his album releases were soundtracks from his movies, it did not his management long to realize the movies. soundtrack did not have to be good. Just put Elvis in  it, and it would sell!
Luckily, there is some good Elvis vinyl still available. Check them out below!
The Elvis Album
Elvis's second album. Sometimes known as Elvis Presley No. 2 albums. Recorded mainly in 1956, it contained twelve tracks including "Old Shep", "Rip It Up", "Ready Teddy", 12 songs all together. The album, of course reached number one in the U.S. charts, and number 3 in the U.K. The photo, carefully selected showing sideburns and slick back hair, also featured on many Elvis E.P's.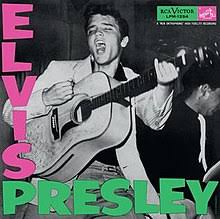 The Elvis Presley Album
This is Elvis Greatest Hits Volume 2, the fourth compilation album, containing hits from 1957 to and 1959. Released in November 1959, it went  to number 31 in the U.S.., and reached number 3 in the U.K. This album contained the classics  "Wear My Ring Up Around Your Neck", "Fool Such as I" and "One Night". Brilliant! This is the iconic cover that established the guitar as THE rock and roll instrument.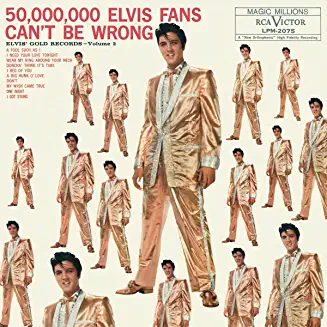 50,000,000 Elvis Fans Can't Be Wrong: Elvis' Gold Records, Volume 2 is the fourth compilation album by American singer and musician Elvis Presley, issued by RCA Victor in November 1959. It is a compilation of hit singles released in 1958 and 1959 by Presley, from recording sessions going back as far as February 1957. The phrase "50,000,000 Elvis Fans Can't Be Wrong" does not appear on the labels on any of the original records, and it is the title of the records on the labels—not the jacket—that is usually given preference when conflicting titles appear on albums.

Buy Elvis 50,000,000 Fans Can't Be Wrong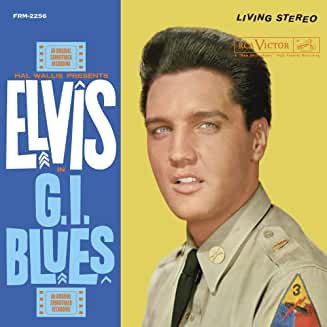 Elvis G.I. Blues
Elvis recorded the soundtrack to the "G.I. Blues" film in April-May 1960. Released in September of that year, it spent 6 weeks at No. 1 in the U.S. Billboard chart, ant No. 1 for 7 weeks in the U.K. There are 16 tracks, including the single "Wooden Heart", also a No.1 hit in  the U.S., England and Australia.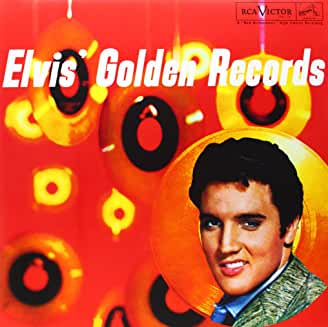 Elvis Golden Records
Often said to be the first Golden Hits album in history, this was The album to have in the early '60's. Released in March 1958, the album went immediately in to the Billboard chart peaking at No. 3. It eventually was certified triple platinum in August 1977. The album contained  his hits from 1956, and 1957, including "Jailhouse Rock", "Heartbreak Hotel" and "All Shook Up", 14 tracks in all. Essential!