David Bowie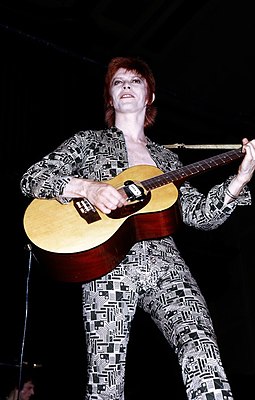 Typical David Bowie in the 70's, acoustic guitar in hand.
David Bowie

...and The Spiders from Mars
David Bowie and I took a while to connect.
It was a Thursday evening at my brother in laws home. He was not a music fan, but we were watching some TV show, the name of which I forget.
Part way through the show, David came on, and sang, or mimed, Space Oddity. My brother-in-law, bless his heart, thought it was the worst thing he had ever seen. If anything, he'd have Roy Orbison any day. But that was my first sight of Bowie, it wasn't until Ziggy Stardust that I really got into him and Mick Ronson and the Spiders.
David was born David Robert Jones, 8 January 1947. He changed his name to David Bowie, to avoid confusion with the Monkees Davey Jones, getting the Bowie name from the American Bowie knife.
David Bowie In The Beginning
As a child he was interested in music, his brother, Terry Burns, (who suffered from mental issues, and died in 1985) was instrumental in introducing David to American rock, blues and jazz music. David impressed is teachers at school with his dance and acting performances, with his "strikingly imaginative" movements and astonishing poise for a child.
After joining his first bans at 15, David moved through several other groups before signing for mercury and releasing "Man of Words, Man of Music" with the single "Space Oddity" coming out in July 1969, his first No. 1.
"The Man Who Sold the World" came out in 1970. Bowie began to sense a lacking: "a full-time band for gigs and recording—people he could relate to personally".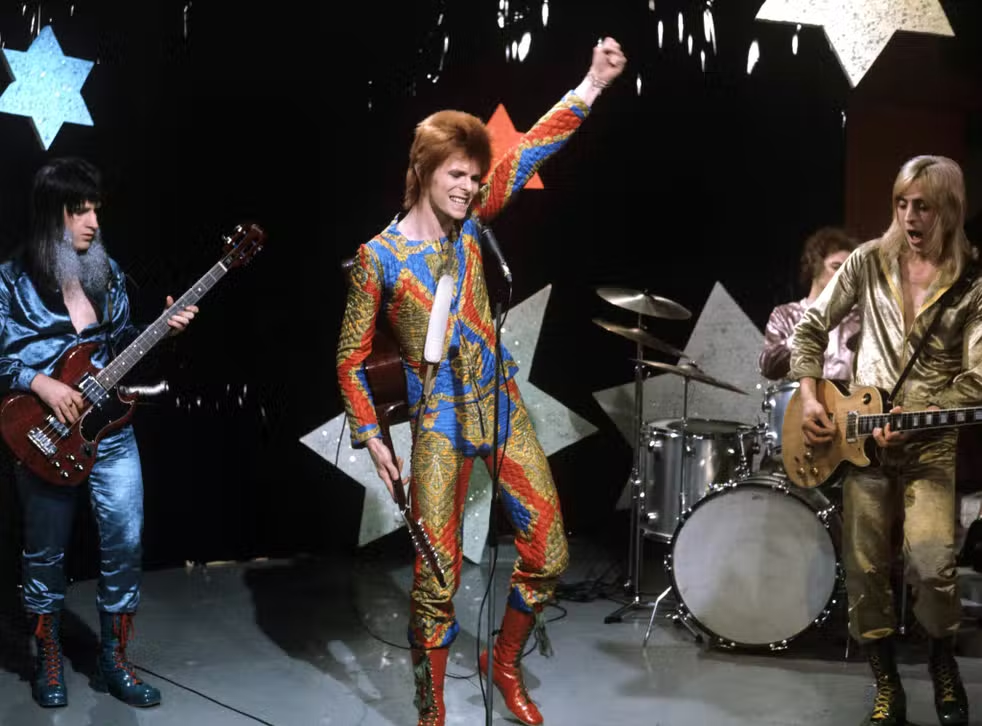 Typical classic performance, (L to R) Trevor Bolder, David, Mick "Woody" Woodmansey on drums, and Mick Ronson.
The Spiders Sign On
So he recruited Mick Ronson on guitar, Tony Visconti on bass, and a drummer he had met some time ago, John Cambridge. John and David argued, mainly about John's drumming ability, and was replaced by Mick Woodmansey, who remained for the duration of the Spiders. The controversial cover of Bowie in a full dress had to be changed, my how times have changed. Around this time, Trevor Bolder moved in on bass guitar, and Tony DeFries became Bowie's manager. This latter move cost Bowie in later years.
"The Man Who Sold the World" marked a shift toward hard rock, with elements of blues rock. The lyrics are also darker than his previous releases, exploring themes of insanity, religion, technology, and war. None of the songs from the album were released as official singles.
Originally titled Metrobolist, a play on Fritz Lang's 1927 film Metropolis, the title was changed at the last minute by Mercury without Bowie's consultation.
"Hunky Dory" was Bowies fourth studio album released on 17 December 1971 through RCA Records. Following the release of, "The Man Who Sold the World," Bowie took time off from recording and touring. He settled down to write new songs, composing on piano rather than guitar as on earlier tracks. Following a tour of the United States, Bowie assembled his band and began to record a new album in mid-1971 at Trident Studios in London. Future Yes member Rick Wakeman contributed on piano. Bowie co-produced the album with Ken Scott, who had engineered Bowie's previous two records. The album release was supported by the single "Changes" on 7 January 1972 but received little promotion from RCA due to its unusual cover image. It was only after the breakthrough album "Ziggy Stardust" that the album began to sell well.
David Bowie and Ziggy Take Off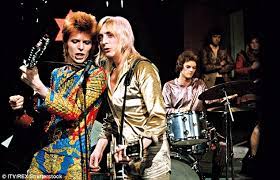 Close harmony between David and Mick Ronson, Top of the Pops during the Ziggy Stardust era.
His 5th album, "The Rise and Fall of Ziggy Stardust and the Spiders from Mars" was released on 16th June 1972.
A change of management came at the same time as the tour to promote the Ziggy album. RCA records, now David's label, invested heavily in the tour. They were rewarded in spades, as the singles "Suffragette City", and "Rock and Roll Suicide" big sellers, and "Starman" reaching No. 10.
Ziggy Stardust is considered one of Bowie's best works and has appeared on numerous lists of the greatest albums of all time. Bowie had ideas for a musical based on the album, although this project never came to fruition; ideas were later used for Diamond Dogs (1974).
Ziggy Stardust has been reissued several times and was remastered in 2012 for its 40th anniversary. In 2017, it was selected for preservation in the National Recording Registry, being deemed "culturally, historically, or artistically significant" by the Library of Congress.
David Bowies Vinyl
Divine Symmetry Released on vinyl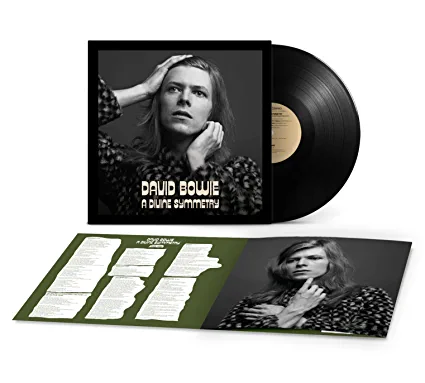 Divine Symmetry (An alternative journey through Hunky Dory).
This LP brings together early mixes of the  Hunky Dory tracks originally featured on the BOWPROMO album in 1971. Also  new alternative Ken Scott mixes to create an alternative version of the Hunky Dory album. And it also features the session outtake of 'Bombers' on the album.
Tracks:
SIDE A
Changes (2021 alternative mix), Oh! You Pretty Things (BOWPROMO mix), Eight Line Poem (BOWPROMO mix), Life On Mars? (Original ending version), Kooks (BOWPROMO mix), Quicksand (2021 mix early version)
SIDE B
Fill Your Heart (2021 alternative mix), Bombers (2021 alternative mix), Andy Warhol (original mix) Song For Bob Dylan (2021 alternative mix), Queen Bitch (BOWPROMO mix), The Bewlay Brothers (2021 alternative mix)
David's classic 5th album, released in June 1972. A frequent member of the "Greatest Albums of All Time "lists, and No 6 on Rolling Stones best 100 albums. Includes the classic "Star Man" (with Mick Rosson's classic guitar bit), "Five Years" "Lady Stardust" and "Suffragette City"
---
Following up Ziggy was always going to be a challenge. This, his 6th album, was the first to be made as a big star. Made with the Spiders plus keyboard player Mike Garson a couple of Sax players and girl backing vocals, it got a mixed review on release.
Preceded by the singles "The Jean Genie" and "Drive-In Saturday", Aladdin Sane was Bowie's most commercially successful record up to that point, topping the UK Albums Chart and helped garner immense popularity for the artist there. It also received positive reviews from music critics, although many found it inferior to its predecessor. The popularity continued throughout the latter half of the Ziggy Stardust Tour, which featured various setlist and stage production changes. In later decades, Aladdin Sane has appeared on several best-of lists and is viewed by Bowie's biographers as one of his essential releases. It has been reissued several times and was remastered in 2013 for its 40th anniversary, which was included on the 2015 box set Five Years (1969–1973).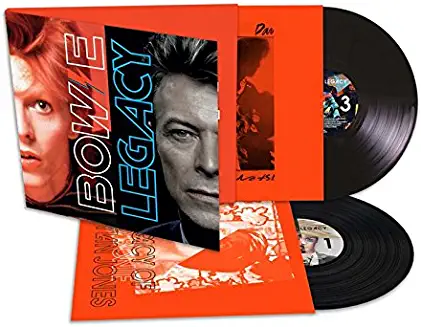 The "Legacy" double LP set, which came out through Sony in 2016'. 20 good tracks including a remixed version of "Life On Mars", "Oh You Pretty Thing", "Changes" and "Dancing In The Street "with Mick Jagger.
Enjoy this site? Share with friends!