Creedence Clearwater Revival
Creedence Clearwater Revival, playing in the street for the photo shoot for the "Willy and the Poorboys" album. (L to R) John Fogerty, Stu Cook, Doug Clifford and Tom Fogerty.
Creedence Clearwater Revival, the fresh non political "Swamp Rock' sound, sold the most singles of any American Band
How a couple of school friends born and bred in Berkley California managed to produce classic "Swamp Rock" still a mystery afer13 classic top 60 Billboard chart entries '68-'72, 7 two sided hits. Plus, four more hits after they split. They are the greatest U.S. singles band ever.
While attending El Cerrito Junior High School there, Tom Fogerty, John Fogerty, Stu Cook and Doug Clifford banded together and started playing the San Francisco Bay area as Tom Fogerty Blue Velvets. Local label Fantasy signed them up, changing their name to the Golliwogs.
The lead roll soon changed from Tom to John, as his song writing developed.
For the next couple of years, they toured the Central California areas, releasing several singles that, with the exception of "Brown Eyed Girl", did nothing.
---
Golliwogs become Creedence Clearwater Revival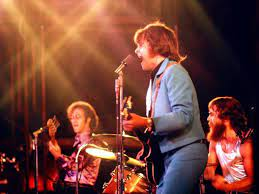 Creedence in action. Stu Cook on bass, John Fogerty guitar and belting out the vocals, Doug Clifford behind the kit
In 1967, in desperation, they turned professional, and changed their name to Creedence Clearwater Revival, coinciding with      Saul Zaentz taking over Fantasy Records, the San Francisco music scene took off.
In 198, the San Francisco music scene took off, and Creedence released their first album, "Creedence Clearwater Revival" consisting of rock standards, and John Fogerty originals.
Two singles were released simultaneously, the Screaming Jay Hawkins number "I Put a Spell on You" and Dale Hawkins "Suzie Q". Both these singles were top 40 hits. The album "Bayou Country" quickly followed, and this album was to establish Creedence as the first great singles band of the 60's.
Two John Fogerty originals, "Proud Mary", and "Born on the Bayou", both struck gold. These were followed by great albums "Green River", (with hits "Bad Moon Rising"," Green River" and "Lodi"), and "Willy and the Poor Boys", possibly their finest album. The singles "Down on the Corner", "Midnight Special" and "Fortunate Son" all came from this album.
But the next album, "Cosmo's Factory" even outdid that record, with no less than three gold records. "Travelling Band", "Up Around the Bend" and "Looking Out My Back Door". The album also featured "Run Through the Jungle" and "Travelling Band".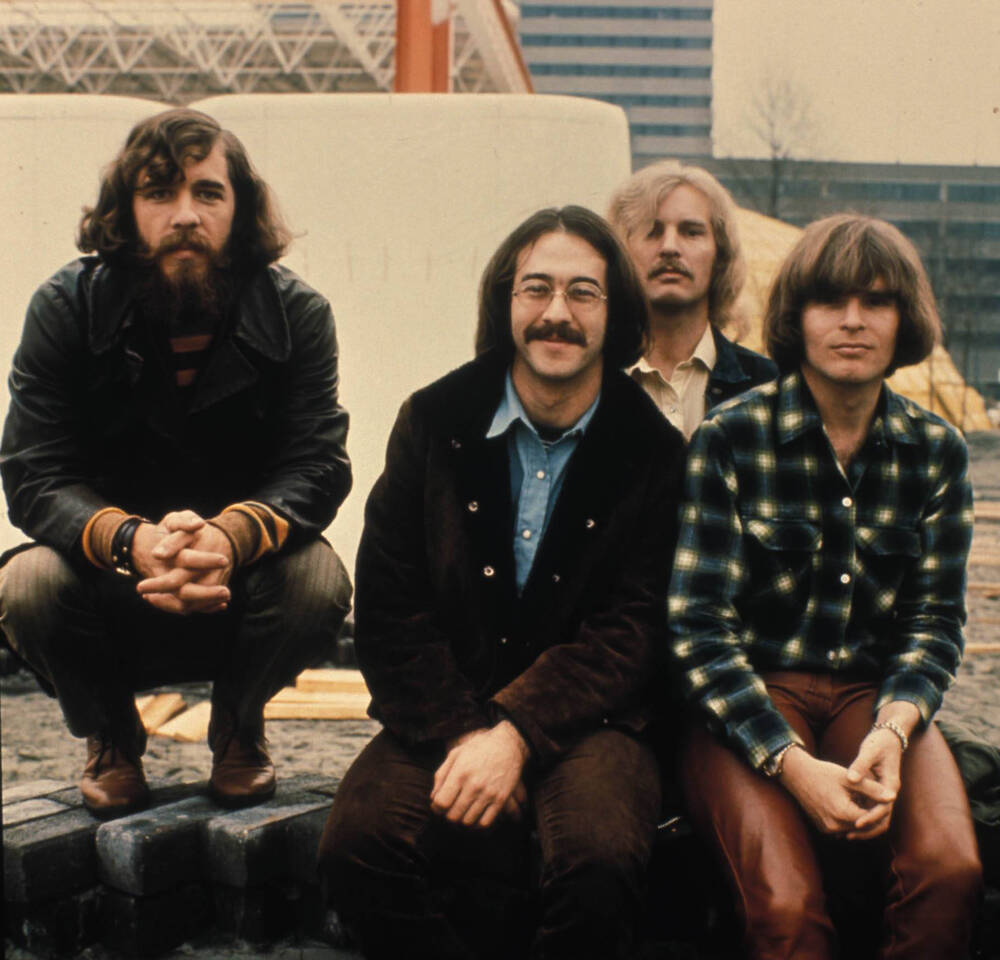 Early snap of the band in happier times. Doug Clifford left, Stu Cook, Tom Fogerty and John Fogerty in his trademark check shirt.
Tom Fogerty quit in 1971, just after the "Pendulum" album. The band continued as a trio, putting out "Mardi Gras" after which the band disbanded.
The Creedence music still sounds fresh today and sells consistently. They developed the "Swamp Rock" country flavored rock, steering clear of political statement music.
Creedence Chronical Album   The classic 20 greatest hits album. Includes "Proud Mary", "I Put a Spell On You", "Down On The Corner" and "Up Around The Bend.
The ideal start to any Creedence collecion.
Enjoy this site? Share with friends!