Cilla Black, (Priscilla Marie Veronica White) was the hat check girl at Cavern in Liverpool, where her picture hangs proudly in the reconstructed club. The only Liverpool singer to emerge from the Mersey beat boom, Cilla swept to fame after being signed by Brian Epstein who then got her a deal with Parlophone.
Cilla's first single, produced by George Martin, was a Lennon/McCartney song, "Love of the Loved" which got to No. 38 on the U.K. charts in late 1963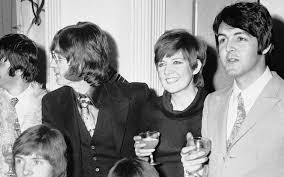 Cilla with Paul McCartney, John Lennon, Ringo Starr and members of the band Grapefruit, at that bands much publicized launch.
Her next single, "Anyone Who Had a Heart" (a Bacharach/David song for Dionne Warwick) went to No. 1 in February 1964.
"You're My World", Cilla's next single, her second No. 1 hit, was an English-language rendition of the Italian popular song "Il Mio Mondo" by composer Umberto Bindi. She also enjoyed chart success with the song in America, Australia, New Zealand, Europe, South Africa and Canada. Both songs sold over one million copies worldwide and were awarded gold discs.
Black's boyfriend and songwriter Bobby Willis assumed management responsibilities after Epstein died. After the relatively disappointing performance of "I Only Live to Love You" (UK No. 26, 1967), Black hit a new purple patch in her recording career, starting with "Step Inside Love" in 1968 (UK No. 8), which McCartney wrote especially for her as the theme for her new weekly BBC television variety series. Other successes followed in 1969: "Conversations" (UK No. 7), "Surround Yourself with Sorrow" (written by Bill Martin, Phil Coulter, UK No. 3), "If I Thought You'd Ever Change Your Mind" (No. 20). Black had a further big hit with "Something Tells Me (Something's Gonna Happen Tonight)" (UK No. 3) in 1974.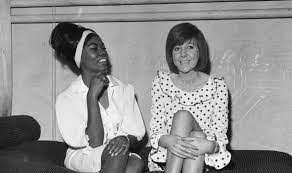 Cilla having a chat with great friend Dionne Warwick.
Harrison, Ringo Starr and singer Marc Bolan to attend a screening of the John Lennon–Yoko Ono experimental film Erection. She also holidayed with Harrison and Starr on a trip aboard a yacht chartered by Starr. "Photograph" was written on this trip—originally intended for Black—but Starr decided to record it himself. George Harrison also wrote two songs for Black: "The Light that has Lighted the World" and "I'll Still Love You (When Every Song is Sung)". The latter she recorded during 1974 with her then-producer David Mackay, but it was not heard publicly until 2003 when it was included on a retrospective collection entitled Cilla: The Best of 1963–78.
On 1 August 2015, at the age of 72, Cilla Black died at her holiday home in the Spanish town of Estepona.
Following the results of an autopsy, her sons confirmed that she had died from a stroke following a fall in her home.
A pathologist's report confirmed that Black had suffered a subarachnoid hemorrhage after falling backwards and hitting her head, presumably on a terrace wall. It was believed she had not been found for at least four hours.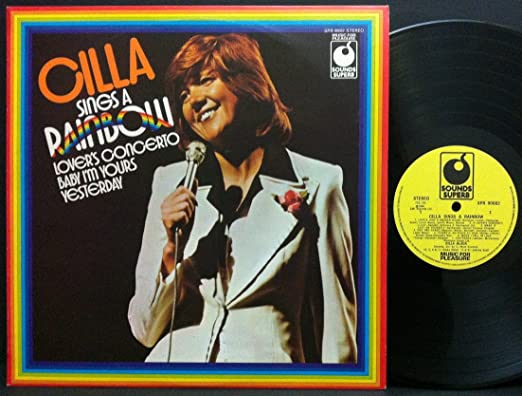 is Cilla Black's second solo studio album, and by many, regarded as her best Relleased on 18 April 1966 by Parlophone Records the album reached No. 4 on the UK Albums Chart, surpassing the No. 5 peak of her previous album, ("Cilla") and becoming her highest charting studio album.                                   Tracks include "Lovers Concerto", "Make It Easy On Yourself", "Yesterday" , 13 tracks in all.