Chuck Berry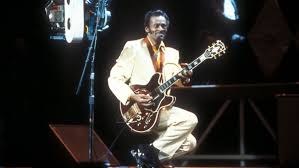 A typical Chuck Berry performance, giving it all!
---
Chuck Berry changed music, by writing the songs, singing them and performing like no other artist!
Chuck born Charles Edward Anderson Berry on  the 18th October, ("Rocktober") 1926.
By early 1953, influenced by the guitar riffs and showmanship techniques of the blues musician T-Bone Walker, Berry began performing with the Johnnie Johnson Trio .His break came when he visited to Chicago in May 1955 and met the legendry Muddy Waters, who suggested he contact Leonard Chess, of Chess Records. With Chess, he recorded "Maybelliene"—Berry's adaptation of the country song "Ida Red"—which sold over a million copies, reaching number No. 1 on the R& B charts, and No. 1 one on Billboard magazine's chart.
---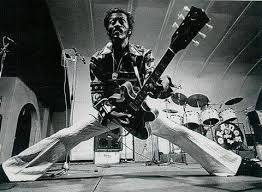 In a typical pose, Chuck Berry with Lucille in a show from 1988
Chuck Berry Becomes a Star!
By 1955, Berry became a major star. Often referred to as "The Godfather of Rock", such classics as "Roll Over Beethoven" in 1956, (the celebration of rock 'n' roll emphasis on the generation gap) made No. 29 on the U.S. pop chart. "To Much Monkey Business" backed with "Brown Eyed Handsome Man" made top 10 R&B charts.
---
The Chuck Berry Legacy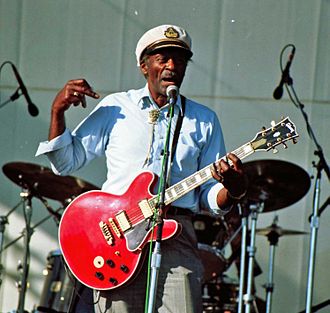 Chuck with his fave Gibson ES 335, 1995
Chuck Berry has been hailed as the most influential of the Pre-Beatles era. His songs have been covered by The Beatles, "Roll Over Beethoven", "Rock and Roll Music", Buddy Holly "Brown Eyed Handsome Man", The Rolling Stones, "Come On", "Round and Round" and many, many more.
The rock critic Robert Christgau considers Berry "the greatest of the rock and rollers", while John Lennon said, "if you tried to give rock and roll another name, you might call it 'Chuck Berry'." Ted Nugent said, "If you don't know every Chuck Berry lick, you can't play rock guitar." Bob Dylan called Berry "the Shakespeare of rock 'n' roll". Bruce Springsteen tweeted, "Chuck Berry was rock's greatest practitioner, guitarist, and the greatest pure rock 'n' roll writer who ever lived."
On July 29, 2011, Berry was honored in a dedication of an eight-foot, in-motion Chuck Berry Statue in the Delmar Loop in St. Louis, Missouri, right across the street from Blue Berry Hill. Berry said, "It's glorious--I do appreciate it to the highest, no doubt about it. That sort of honor is seldom given out. But I don't deserve it."[
---
| | |
| --- | --- |
| Chuck Berry, an early publicity shot. | Another publicity shot, this time with his classic Gibson ES 350T, Maybellene. |
While no individual can be said to have invented rock and roll, Chuck Berry comes the closest of any single figure to being the one who put all the essential pieces together. It was his particular genius to graft country & western guitar licks onto a rhythm & blues chassis in his very first single, "Maybellene". Stated when Chuck was inducted into the Rock and Roll Hall of Fame .
---
Watch this documentary on Chuck and his guitar. 
Chuck Berry On Vinyl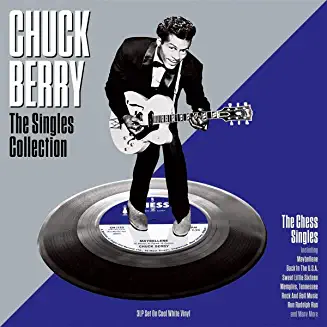 If you are just starting your collection of Chuck, is ia a a great way to start. A triple album of Cuck Berry hits over many, many years. Classics include Maybeline, Thirty Days, Roll Over Beethoven, Brown Eyed Hansom Man, and many many others. When listening to this record, as well as knowing most of the songs from way back, you will find yourself thinking."I know this song, but it was The Kinks doing it, then, it was The Hollies doing it, and The Lovin' Spoonfull, Buddy holly, Rolling Stones, The Beatles, and others, so many of these songs being well known through other artists.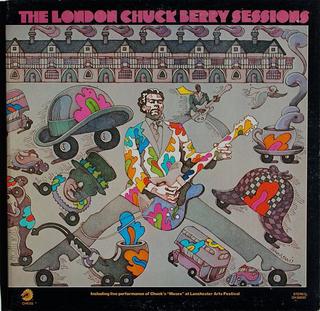 is an album of studio recordings and live recordings by Chuck Berry, released by Chess Records in October 1972. Side one of the album consists of studio recordings, engineered by Geoff Calver; side two features three live performances recorded by the Pye Mobile Unit, engineered by Alan Perkins, on February 3, 1972, at the Lanchester Arts Festival in Coventry, England. At the end of the live section, the recording includes the sounds of festival management trying in vain to get the audience to leave so that the next performers, Pink Floyd, can take the stage; the crowd begins chanting "We want Chuck!". His backing band were Onnie McIntyre (guitar), Robbie McIntosh (drums), Nic Potter (bass) and Dave Kaffinetti (piano). Both McIntosh and McIntyre would later form The Average White Band. "My Ding-a-Ling", from the live side of the album, was edited to approximately 4 minutes for release as a single. It was Berry's first and only single to reach number 1 in both the US and the UK.
Enjoy this site? Share with friends!