Buddy Holly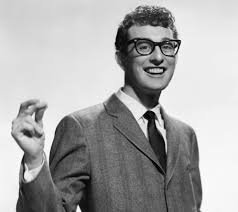 Buddy Holly a unique style, and unique talent.
Buddy Holly had a great influence on Michael Jackson, The Beatles, The Hollies and many, many others!
Buddy Holly was born Charles Hardin Holley (September 7, 1936 – February 3, 1959).  He was a richly talented and distinctive central and pioneering figure of mid-1950's rock and roll. Buddy  took a keen interest in production techniques so his music of 30 years ago sound as fresh and vibrant. He was born in Lubbock, Texas, to a musical family during the Great Depression, and learned to play guitar and sing alongside his siblings. His style was influenced by gospel music, country music, and rhythm and blues acts, which he performed in Lubbock with his friends from high school.
---
The Buddy Holly Decca Sessions
He made his first appearance on local television in 1952, and the following year he formed the group "Buddy and Bob" with his friend Bob Montgomery. In 1955, after opening for Elvis Presley, he decided to pursue a career in music. He opened for Presley three times that year; his band's style shifted from country and western to entirely rock and roll. In October that year, when he opened for Bill Haley & His Comets, he was spotted by Nashville scout Eddie Crandall, who helped him get a contract with Decca Records.

---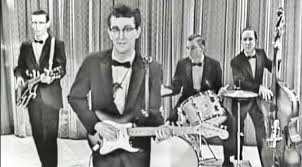 Buddy Holly, with Crickets an American TV. Guitarist Sonny Curtis, Drummer Jerry Alison, and bassist Joe Mauldlin.
It Becomes Buddy Holly and
The Crickets
Original line up was Jerry Allison on drums, Sony Curtis on guitar and Don Guess on bass. With this line up Holly, ventured to Clovis, New Mexico which was run by Norman Petty. Here Buddy honed his recording skills, learning how to get the best sounds from the drums applying a  heavy backbeat to the recordings. Also, he was the first to use the double tracking and overdubbing, as on "Words of Love".
A new version of "That'll Be The Day" was released by Brunswick, now his label, which got to No. 1 in the USA and UK. early '57.
This was followed by "Oh Boy", backed with "Not Fade Away", No.3UK, 10 USA. This is when I got in to Buddy Holly, my mother waking me up one night when "Oh Boy" came on the radio, knowing I had been waiting for it to be played.
"Peggy  Sue"/"Every day" followed , getting to No. 6 UK, 3 USA.
Other hits included in '58 included "Think It Over", "Rave On" (a classic) 'True Loves Way"
The album Chirping Crickets, released in November 1957, reached number five on the UK Albums Chart. Holly made his second appearance on The Ed Sullivan Show in January 1958 and soon after, toured Australia and then the UK. In early 1959, he assembled a new band, consisting of future country music star Waylon Jennings (bass who narrowly missed being on the fatal flight), famed session musician Tommy Allsup (guitar), and Carl Bunch (drums). Needing a heavy touring schedule to earn money, Holly  embarked on a tour of the midwestern U.S.
After a show in Clear Lake, Iowa, he chartered an airplane to travel to his next show, in Moorhead, Minnesota. Soon after take-off, the plane crashed, killing Holly, Ritchie Valens, The Big Bopper, and pilot Roger Peterson in a tragedy later referred to by Don McLean as "The Day the Music Died" in his song "American Pie".
Buddy Holly's last hit was "It Doesn't Matter ant More", No. 13 1959, a Paul Anka song with orchestra and released after his death.
---
Buddy Holly's Influence and Legacy
During his short career, Holly wrote and recorded many  songs. He is often regarded as the artist who defined the traditional rock-and-roll line-up of two guitars, bass, and drums. He was a major influence on later pop music. Michael Jackson adopted his hiccup style in many of his songs. The Hollies named themselves after him, and The Beatles chose that name for being as close as they could get to The Crickets. They loved his lead guitar technique of playing lead with chords, as in "Peggy Sue"
John and Paul saw him on TV just after the two had met, and learned his performance style and lyricism, and based their act around his persona. Bobby Vee started his career as a result of Buddy's death, he went on to continue the tour dates booked.
Listen to "Rubber Ball" and you will notice the influence.
With Elvis in the army, Buddy was well poised to take over "The Kings" mantle, and maybe he had the temperament to handle the pressure and, many say, he was more talented.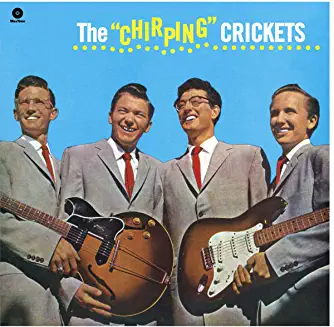 "The Chirping Crickets"
"The Chirping Crickets", the debut album by "The Crickets" in November  1957, and was the only album released in Buddy's lifetime. Containing three single releases, "That'll Br The Day", "Oh Boy" and "Maybe Baybe", it also has two co-written by Roy Orbison, "You Got Love" and "The Empty Cup". 12 great tracks in all.
The band run through twelve songs in an album that sets an example of what rock'n'roll albums were to be and sound like over the next decade, with fast, tough sounding songs and a few slower ballads sprinkled in.
This is the one album that's a great product of its time, yet timeless . Its influence cannot possibly be measured as so many peoples, who were only kids at the time, like myself and my other schoolmates, were encouraged to pick up guitars and have a bash. 
1.            "Oh, Boy!"          
2.            "Not Fade Away"             
3.            "You've Got Love"           
4.            "Maybe Baby"    Holly, Petty         
5.            "It's Too Late"    
6.            "Tell Me How"
7.            "That'll Be the Day" (May 27, 1957, Brunswick version)    
8.             "I'm Looking for Someone to Love".
9.            "An Empty Cup (And a Broken Date)"      
10.         "Send Me Some Lovin'"  John Marascalco,
11.         "Last Night"       
12.         "Rock Me My Baby"
---
Enjoy this site? Share with friends!