Bill Haley and the Comets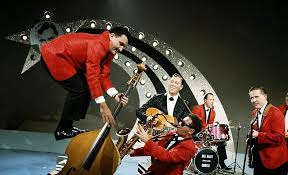 Typical Bill Haley and the Comets showing Bass player Marshall Lytle doing his thing!
---
It was Bill and his Comets that made Rock and Roll what it is today!
Before Elvis, before Rick Nelson and the others there was Bill Haley and the Comets. It was the classic "Rock around The Clock" that turned music around, and led to Elvis, and the future of rock music.
It was that band  that really got me into the drums. Well, not Bill himself, but his drummer. That little drum riff at the end of "rock round the Clock" got me started. I then grabbed two of my toy railway lines from my train set, and started beating the hell out of the sets container.
---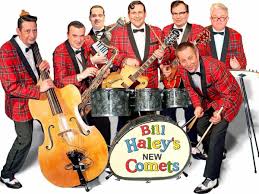 In around the mid-1940s, Bill  performed with the Down Homers and formed a group called the Four Aces of Western Swing. The group that later became the Comets initially formed as "Bill Haley and the Saddlemen" c. 1949–1952, and performed mostly country and western songs, though occasionally with a bluesy feel. During those years Haley was considered one of the top cowboy yodelers in America. He began his rock and roll career with what is now recognized as a rockabilly style in a cover of "Rocket 88" recorded for the Philadelphia-based Holiday Records label in 1951. It sold well and was followed in 1952 by a cover of a 1940s rhythm and blues song called "Rock the Joint" (this time for Holiday's sister company, Essex Records).
---
Things Get Going!
On the Ed Sullivan Show
"Rock the Joint" and its immediate follow-ups were released under the  Saddlemen name. It soon became apparent that a new name was needed to fit the new musical style. A friend of Haley's, common alternative  suggested that they call the band Bill Haley and the Comets..

The new name was adopted. Members of the group at that time were Haley, Johnny Grande, Billy Williamson, and Marshall Lytle. Grande usually played piano on records but switched to accordion for live shows as it was more portable than a piano and easier to deal with during musical numbers that involved a lot of dancing around. Dick Richards joined on drums later. During this time (and as late as the fall of 1955), Haley did not have a permanent lead guitar player, choosing to use session musicians on records and either playing lead guitar himself or having Williamson play steel solos.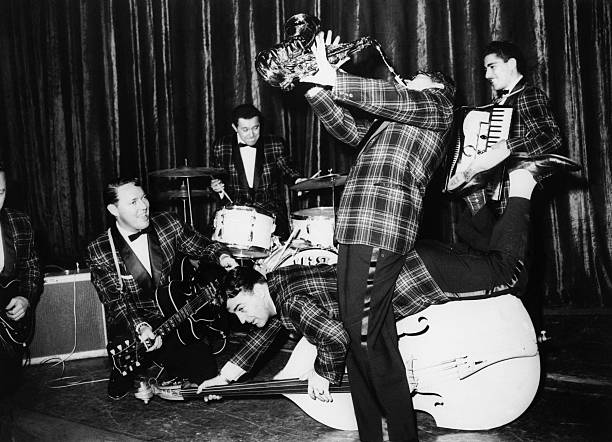 No one had blended country and R&B on a single before the Comets' "Rock the Joint" in 1952. No one had scored an American Top 20 hit with anything that could really qualify as rock'n'roll before their single "Crazy Man Crazy" in 1953".
 "Crazy Man, Crazy", a phrase Haley said he heard from his teenage audience. It was also said to be the first rock'n'roll recording to be played on national television in the United States (in an episode of Omnibus (American TV program) in 1953.
---
...the Big Breakthrough Comes!
Welcoming drummer Ralph Jones to the Comets.
In early 1954, Haley and His Comets headed to New York's  Decca Records, where they were placed under veteran producer Milt Gabler, who would produce all of the band's recordings.
One of the group's first session, on April 12, 1954, yielded "Rock Around the Clock", which would become Haley's biggest hit and one of the most important records in rock and roll history. Sales of "Rock Around the Clock" started slowly, since it was the B-side of the single, but it performed well enough that a second Decca session was commissioned.
---
"Shake, Rattle and Roll" followed, a version of the Big Joe Turner recording released earlier in 1954. The single was one of Decca's best-selling records of 1954 and the seventh-best-selling record in November, 1954.
In March, 1955, the group had four songs in Cash Box magazine's top 50 songs: "Dim, Dim the Lights, (I Want Some Atmosphere) "Birth of the Boogie", "Mambo Rock", and "Shake, Rattle and Roll."[
Marshall Lytle shows his unique bass style.
---
Bill Haley and the Comets popularity faded in 1956–57 as sexier, wilder acts such as Elvis Presley, Jerry Lee Lewis and Little Richard began to dominate the record charts (although Haley's cover version of Little Richard's "Rip It Up", released in direct competition with Little Richard's original recording, outsold the original). After "Skinny Minnie" hit the charts in 1958, Haley had little further success.
---
For more info on Bill Haley, check out this excellent Bill Haley site.
---
Bill Haley and the Comets Vinyl Records 
Bill Haley's Greatest Hits
This album came out in 1968, and contains 11 excellent tracks.
1.(We're Gonna) Rock Around The Clock    
2.Thirteen Women (And Only One Man In Town)   
3.See You Later, Alligator    
4.Sway With Me   
5.Choo Choo Ch'Boogie      
6.Razzle-Dazzle     
7.Shake, Rattle And Roll   
8.Skinny Minnie     
9.The Saints Rock 'N' Roll   
10.Burn That Candle             
11.Joey's Song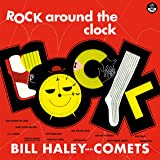 Bill Haley "Rock Around The Clock
Bill Haley's third album for Decca, released in December 1955. Recorded in New York, in included previously released material and new recordings. Unlike Haley's previous two albums, this was a 12 inch rather than a 10  inch pressing. Songs include the title track, plus "Shake Rattle and Roll" "Birth of the Boogie", "Razzle Dazzle", plus 9 other classics.
1.            "Rock Around the Clock"              
2.            "Shake, Rattle and Roll" 
3.            "A.B.C. Boogie" 
4.            "Thirteen Women (And Only One Man in Town
5.            "Razzle-Dazzle" 
6.            "Two Hound Dogs"
7        Dim the Lights (I Want Some Atmosphere)"              
8.            "Happy Baby"    
9.            "Birth Of The Boogie"     
10.         "Mambo Rock" 
11.         "Burn That Candle"         
12.         "Rock-A-Beatin' Boogie"
---
Enjoy this site? Share with friends!