The Beach Boys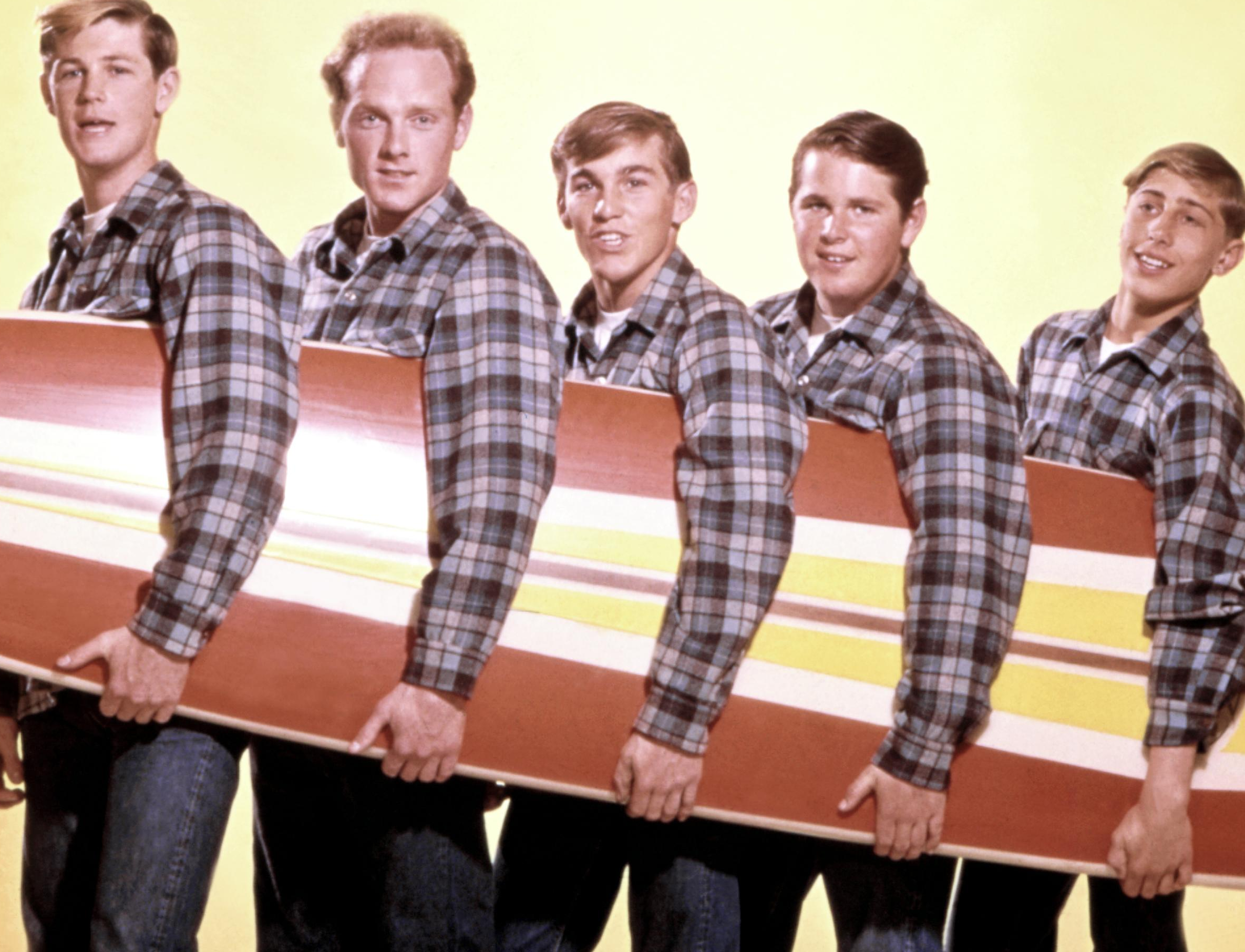 The Surfing image, The Beach Boys promo shot from the early '60's
The Beach Boys Not Only Survived the British Invasion, They helped Influence It!
The Beach Boys formed in Hawthorne, California in 1961. The group's original line-up consisted of brothers Brian, Dennis, and Carl Wilson, their cousin Mike Love, and their friend Al Jardine.
Distinguished by their vocal harmonies and early surf songs, they are regarded as one of the most influential acts of the rock era. The band drew on the music of jazz-based vocal groups, 1950s rock and roll, and black R&B to create their unique sound, and with Brian as composer, arranger, producer, and de facto leader, they often incorporated classical or jazz elements and unconventional recording techniques in innovative ways.
---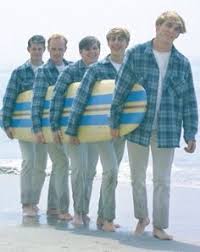 Where it all started, a stroll on the beach in the days of surf and cars.
Dennis was the only one interested in surfing, but it was he who got Brian and Mike Love to write about the West Coast passions, surf, cars and girls.
After one small regional hit in late 1961 ("Surfin" No.75 nationally) they were signed by Capitol Records in 1962. Brian Wilson, a consummate writer of teenage anthems perfected the  surf music blend of Chuck Berry rhythms, close harmonies, and teenage interests perfectly.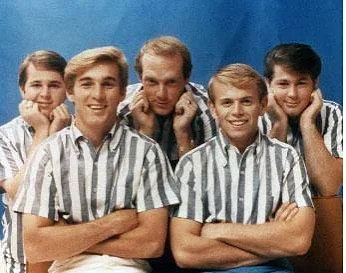 In the trade-mark striped shirts, the Beach Boys at the time of "Surfing Safari"
There followed 24 top 50 hits between 1962 and 1966, including 8 double sided hits,13 top ten, and 3 No. 1's.The number ones, ("I Get Around", 1964,m"Help Me Rhonda" 1965 and "Good Vibrations" 1966). Other classics included "California Girls", "Little Deuce Coupe" "Surfer Girl".

---
The Beach Boys Handle Beatle Mania
With Beatle mania hitting, and the Surf and car theme wearing thin, more grownup themes were explored. Brian withdrew from the touring, replaced by session musician Glen Campbell, (yes, that Gen Campbell) then by Bruce Johnson.
One of the few original U.S. acts to survive Beatlemania, the bands "Pet Sounds" predated the Beatles Sgt Pepper album in the use of advanced studio techniques. Hits from this album included "God Only Knows", "Wouldn't It Be Nice" and "Good Vibrations"
I could not stand "Good Vibrations" and did not possess a Beach Boys record until "Wild Honey" and "Do It Again". I just was not into surfing or Hot Rods.
---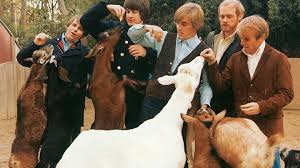 The new look band, the promotional session for the very influential "Pet Sounds" album,1966
Pet Sounds came about after the Beach Boys had heard both "Rubber Sole", and "Revolver". These strongly influenced the bans, and "Pet Sounds" was the result.
The Beatles, hearing "Pet Sounds" were greatly influenced by it, and "Sgt Peppers was the result.
| | |
| --- | --- |
| In the studio, their original look... | ..and years later after during "Pet Sounds" era. |
---
Favorite Beach Boys Songs.....
Kokomo..from the 1988 film "Cocktail" and on the "Still Cruisin'" this is one of my favorite Beach Boys songs. Although not critically well received, it was nevertheless as hit. In fact it was their first hit in 20 years, and their first No. 1 in 22 years. And, the first No. 1 not written by Brian Wilson, who was not in the record.
Wild Honey..I really liked this basic swinging track, from the album of the same name. It was co-written by Brian Wilson and Mike Love, reaching at 31 in the US and 20 in the UK.
Do It Again..When this one came out, in July 1968, I was becoming more of a Beach Boys fan than I ever had been. A great hook and beat the song reflects on times gone by, suggesting they get back to where it all began. Another Mike Love/Brian Wilson song they also shared the vocal duties. It got to No.20 in the US and No. 1 in the UK.
Wouldn't It Be Nice..the opening track on the groundbreaking "Pet Sounds" album this really moves along. An almost wall of sound with beat close harmonies and a multitude of instruments. Apparently, this track took longer than any other on the album to complete, Brian Wilson determined to get the perfect sound. As a single it got to No. 8 on the Billboard top 100.
The Beach Boys on Vinyl
"Pet Sounds"

Pet Sounds, the eleventh studio album by the Beach Boys, released May 1966 on Capitol Records. It initially met with a lukewarm critical and commercial response in the United States, peaking at number 10 on Billboard Top LPs chart, lower than the band's preceding albums. In the United Kingdom, the album was well received by critics and peaked at number 2 in the UK Top 40 Albums Chart, remaining in the top ten for six months. Promoted there as "the most progressive pop album ever", Pet Sounds attracted recognition for its ambitious production, sophisticated music, and personal lyrics. It is among the most influential albums in music history, greatly influencing the Beatles.

"Endless Summer"

A collection of hits from the band's 1962–65 period, Endless Summer was compiled by their old label, Capitol Records, while the Beach Boys were contracted to Reprise Records. Its unexpected success bore immediate consequences for the band's then-progressive musical direction. It revitalized the band's popularity after years of lukewarm sales, but also inspired nostalgia for the Beach Boys' early surfing and hot rod-themed music, repositioning the group as an oldies act. Four months after its release, the album reached number 1 in the United States and Canada. It was the group's second chart-topping album in the US and returned them to a level of commercial success they had not experienced there since the mid 1960s. The compilation spent 155 weeks the Billboard albums chart and was certified 3x platinum for selling over three million copies
---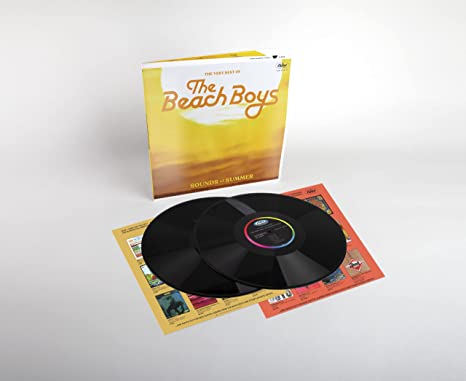 The great "Sounds of Summer" Double
Originally released in 2003 with 30 tracks, this updated re issued classic Sounds Of Summer compilation, featuring 13 new stereo mixes including 1 first-time stereo mix. Newly remastered and available on standard black 2LP with updated photos and liner notes.
Tracks include "Surfer Girl", " Surfin' Safari", "Sloop John B" "Surfin' USA", (Naturally) on the first album. On album 2 there is "Barbara Anne", "Kokomo", "Do It Again", (one of my fave tracks) and the all time classic "Good Vibrations" Altogether a really great collection.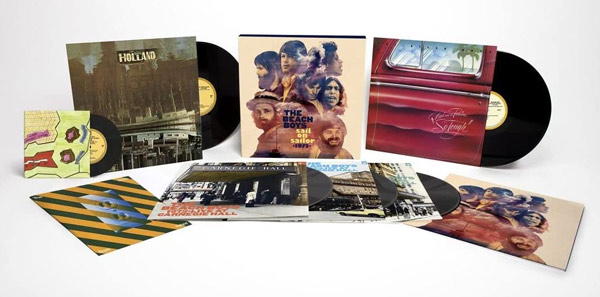 The "Sail On Sailor" Special Release
This collection celebrating the landmark 1972 albums "Carl And The Passions" and "Holland", will be released on December 2nd. This 5LP set features a 38-page book with extensive liner notes, rare photos, and more. The collection includes remastered versions of the original albums as well as a previously unreleased concert from Carnegie Hall recorded in 1972. It has 4 previously unreleased bonus tracks and includes the original Mount Vernon and Fairway 7 inch EP from Holland, unavailable on vinyl since the 1970s.
To Be Released December 2 2022.
Enjoy this site? Share with friends!