Vinyl LP records
Pre Beatles!
Who were the big sellers of vinyl LP records  before The Beatles
Who were selling vinyl LP records before Beatle Mania? It's hard these days to  before the Beatles. I remember it was Rock Around the Clock by Bill Haley and the Comets that got me going into music. The drummer playing the little fill in the end got me hooked, and I was in, and have been ever since.                                                                                              Then came ...
---
Elvis .....

........ and we schoolkids couldn't get enough of him.
My first Elvis vinyl lp records I possessed were Elvis's Golden Records Vol.1  and an EP given to me by a good mate. And it was a long time before I saw footage of him live. I  realized  just how great, very different and sensational he was. Jailhouse Rock was the greatest thing ever. My uncle bought me the 45 vinyl record of that song which he and I both loved.
At my house, my friend played an EP (Extended Play for those who weren't around then, 4 songs on the one 7 "vinyl record) with Hound Dog, Tutti Fruity, and Don't Be Cruel (I think) on it .
Played it to death. At our church, we didn't have church bells, so we played an LP of church bells over two loud speakers.
We sneakily placed "Elvis's Golden Records" on the turntable instead. It got half way through the track before anyone  realized. Fortunately, there is still a great range of Elvis Vinyl LP,s  available today.
---
And then ... Buddy Holly ...
Mum woke me at 9.45 one night to hear Peggy Sue on late night radio ..
Loved Oh Boy, and of course, That'll be the day as well.

Buddy Holly, was as different to Elvis as is possible to be. Thick glasses, short curly  hair, sung in a hiccup style later copied by Michael Jackson. It was a long time before I managed to get any Buddy Holly LP records, I think the first was his Greatest Hits album.
I was sitting on the steps of our local shop having an ice cream when my mate Phillip read out from the paper that Buddy had died in a plane crash. I don't think it was fully registered at the time how devastating this was.
I have since got hold of a lot of Buddy Holly music, vinyl LP records, and CD's, and they get a lot of playing around here! You can read more about Buddy Holly, and his Vinyl Albums HERE .                          
---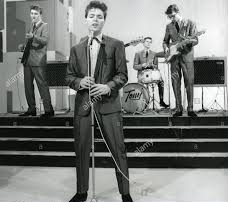 Cliff Richard and the Shadows
Cliff seemed a bit smooth to me at first. But I suddenly became a guitar freak, learning the difference between a Strat and a Gibson. It was a while before I got in to "Move It", his first hit. We all thought he was just an Elvis impersonator
It probably wasn't until "Do You Wanna Dance" that I had second thoughts about Cliff . But the Shadows, (or the Drifters as they were originally Known.) were a different thing altogether. I loved from Apache onward. Frightened City, Shadoogie, Rhythm and Greens, Man of Mystery, just one after the other.
I think I processed four Shadows vinyl LP records, before I got anything by Cliff
No other guitar has sounded like Hanks, before or since. And the Shadows were great singers in their own right, and were the ideal back up harmony providers  for Cliff.
Cliff and The Shadows On Vinyl
The Shadows on Vinyl, and their Story
---

Rick Nelson
And what about Ricky Nelson?
Who can remember The Nelson's TV series with Ozzie and Harriet Nelson, and Ricky's brother David. A TV series featuring a rock star son, a sure winner. Every episode finished with Ricky belting out a song. I remember a ripper version of "I'm Walking". Great stuff.
"Hello Mary Lou", "Traveling Man" "Poor Little Fool" all were great hits here in Australia.
---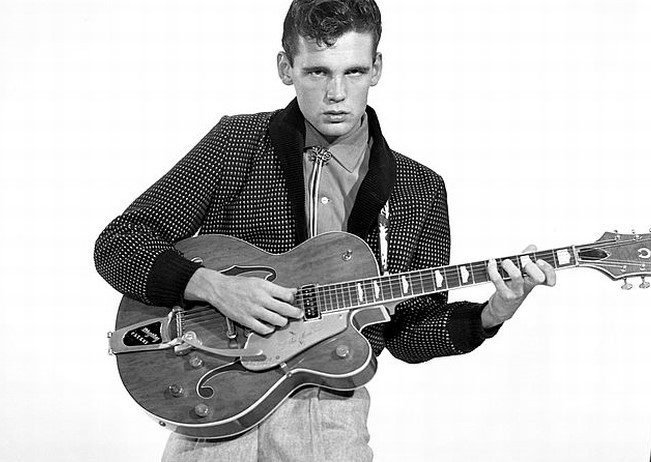 Duane Eddy
Duane Eddy, was introduced to me by another music lover at High School. This kid had made every Duane Eddy record ever, and by that time there were a few of them
With the Rebels, they put out some great instrumental tracks that still sound great today.
The middle part of his "Peter Gunn" record, where we join the guitar one by one, we played over and over, and over.
Who else could sell albums called "The Twangs The Thang", "Have Twangy Guitar Will Travel" and "One Million Dollars Worth of Twang"
And the singles? "Some Kinda earthquake" "40 Miles of Bad Road," " Rebel Rouser", what great names. 
And of course, Lee Hazelwood, later to work with Nancy Sinatra, started off with Duane.
Duane Eddy and his Twangy Guitar and the Rebels were the first fully instrumental stars I followed.
Read Duane's story, and check out his vinyl records 
 and
---
Enjoy this site? Share with friends!